11.07.07
home | metro silicon valley index | music & nightlife | band review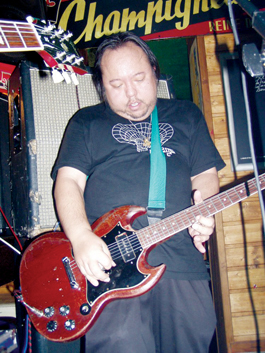 DRINK OUR TOASTS TO LAST GOODBYES: Lance Hahn of J Church died Oct. 21.
Why I Liked J Church
Remembering Bay Area punk Lance Hahn
By Steve Palopoli
The death of Lance Hahn on Oct. 21 wasn't exactly headline news in the music world. The best punk and indie websites and a few local blogs had some very nice things to say about him, but there wasn't that dramatic sense of loss that sometimes pushes a cult figure to the level of pop-culture awareness.
Perhaps that's fitting, in a twisted way, for a man who penned the song "J Church Sucks" for his band J Church and wrote the lyric (in "Fascist Radio," one of his catchiest tunes) "We have expectations that you won't like any or all of these songs."
And yet, Hahn deserves more. A mere 40 years old, his death was unexpected, his talent cut down long before its time. Hahn collapsed on Oct. 12 during kidney dialysis and went into a coma from which he never recovered. He had written about his health problems, which began in 1999, on the websites he maintained for J Church and for his indie label, Honey Bear Records.
A native Hawaiian, Hahn was a longtime fixture on the Bay Area punk scene; in the '80s he played with Gardner Maxam in the hardcore band Cringer, which moved from Hawaii to Los Angeles before settling in San Francisco. In 1991, they formed the core of J Church, named after the San Francisco streetcar line that Hahn took to band practice. J Church was perhaps best known for its incredible output of singles; one of the collections of those 7-inches, Nostalgic for Nothing, is the best place to start in understanding Hahn's importance as a songwriter and punk figure. He wrote regularly for Maximum Rock 'n' Roll and was working on a book about the anarchist tradition in punk rock.
His outspoken earnestness was one of Hahn's true gifts. No matter how clever he was being, no matter how cynical he was feeling, he wore his heart on his sleeve. Unsparingly honest but rarely if ever shrill, Hahn was an intellectual in a genre too often anti-intellectual. He was able to take small-scale personal observations and work them into songs that challenged every kind of convention. No target was too close to home, or too abstract. "Ayn Rand is Dead" is a brilliant rebukeof Individualist ideologues; "Parkas and Flags" expressed his bafflement at the state of counterculture ("Talkin' 'bout my generation/I can't explain my generation"); and "Kill Your Boss" turns a punk cliché into a funny song about job frustration.
Hahn's best political critique, though, may be "Why I Liked Bikini Kill," in which he assails an unspecified critic of Kathleen Hanna ("You're so scared of alienation/You're so scared of segregation/You don't hear a thing")—and by extension, all men who belittle women in rock. Weirder but no less poignant is his song "Jennifer Jason Leigh," which simply repeats four lines ("The interviewer asked/Why I play so many victims/Meaning prostitutes/But I never thought of them as victims") within an absolutely ingenious song structure.
Hahn's writing had a personal side, as well. He could be self-deprecating, as on "My Favorite Place," or genuinely touching, as in a description of a lover's quarrel in "Lemon Zinger" or a failed relationship in "Indignation" ("She said she loved the sea, and I'm not surprised/Our old apartment looked like something out of the decline").
However pure and ambitious Hahn's positions were on life and love, J Church was always a fun band to follow. They did some of the best punk covers you'll ever hear, from Poi Dog Pondering's "Living With The Dreaming Body" to Guided By Voices' "If We Wait..." to Jesus and Mary Chain's "Kill Surf City."
Making the loss seem all the more tragic is the fact that after a spotty output of albums, Hahn truly returned to form with this year's The Horror of Life. Songs from the new record like "If I Have to Dance Then I Don't Want Your Revolution" and "We Play Secular Music" are quintessential J Church.
Hahn moved to Austin, Texas, not long after the release of 2000's One Mississippi, but he'll always be remembered first and foremost as a Bay Area punk. Hopefully, he'll also be remembered as the unique and important voice that he was.
Send a letter to the editor about this story.