11.07.07
home | metro silicon valley index | the arts | stage | review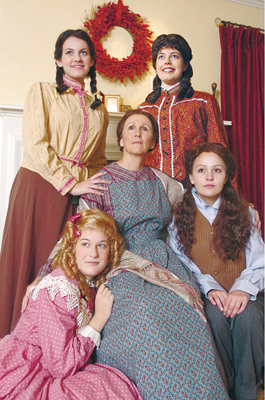 THE GANG'S ALL HERE: Mom Linda Piccone poses with her 'little women' (clockwise from lower left): Sophie Schulman, Kari Yancy, Helen Gruner and Jade Shojaee.
Plucky
Palo Alto Players puts the music into 'Little Women'
By Marianne Messina
MY 12-YEAR-OLD NIECE is going to be a fashion designer, an actress and a writer. Adults believe her when she says this, because she exhibits a certain deafness in the range of nay-saying voices. We all know such indomitably creative youngsters, and if we don't, Louisa May Alcott has given us Jo March, the aspiring young writer in Little Women. By way of the Broadway musical version, Palo Alto Players' Jade Shojaee updates and localizes the 19th-century Massachusetts girl with a Bay Area inflection and the familiar Silicon Valley demeanor that takes great achievement for granted.
This musical is a charmer, starting with its well-written duets (all enthusiastically cheered by the opening-night crowd). In "Off to Massachusetts," in which young Beth March (Kari Yancy) melts the curmudgeonly heart of the March family's neighbor Mr. Laurence (Ted Hatrak), the able singers make a fun duet out of their overlying vocal lines. (Nice attention to detail from the orchestra, directed by Jonathan Erman, in creating the effect of the pianoforte.) The ever-so-sweet quality of Yancy's voice doesn't fully reveal itself until the wheelchair scene when her ethereal tone—in a sister duet with the more sharply voiced Shojaee—suggests that another world calls her. For romantic duets, Helen Gruner as the eldest March sister, Meg, and Justin Taylor Nixon as her love interest, Mr. Brooke sing the cliché right out of "More Than I Am."
With occasional first-night rough edges, this production delivers emotion over the entire musical range, from frisky duets to evocative, showcase ballads. The set design, at first glance, seems to reflect queer directorial choices, hurling the characters at you on an egregiously pitched stage, an incline likely to be hard on the actors. But the overall effect gives a gleeful sense of a dollhouse tipped up so you can peer in through its missing roof. It also makes viewers ever mindful of the actors' footing—perhaps like adults commissioned with the safekeeping of children.
Whether or not these affects were their intent, director George Quick and scenic designer Kuo-Hao Lo have plainly taken care to give key scenes complete and consistent moods. For example, for the wheelchair scene, an antique wooden wheelchair is set in front of a projection—blue sky; puffy clouds (for ocean-side Cape Cod)—and the kite that Beth and Jo fly during their duet actually flies and flutters above the stage.
As Aunt March, maven of social propriety and traditionalist naysayer to Jo's expansive entrepreneurship, a girthy Anne Hubble (don't be confused by her double casting as Mrs. Kirk) takes a character approach, softening Aunt March's formidable opposition with humor. While we adults root for the far-reaching Jo, we also hear the cautionary voice of Aunt March, born of life's hard knocks. Though this story demonstrates that each human voice has its own "proper" song in life, Jo doesn't escape the knocks. But the triumph is that thinking big does yield big results and the bumps come in life whether you take big or small bites out of it.
LITTLE WOMEN, a Palo Alto Players production, plays Thursday–Saturday at 8pm and Sunday at 2:30pm through Nov. 18 at the Lucie Stern Theater, 1305 Middlefield Road, Palo Alto. Tickets are $26–$30. (650.329.0891)

Send a letter to the editor about this story.