November 8-14, 2006
home | metro silicon valley index | music & nightlife | preview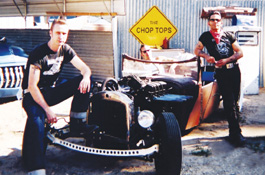 Rockabilly Rebels: The Chop Tops ride their rod to the VooDoo Lounge Friday.
Sonic Overlord
Three venues, 10 bands and one writer
By Ryan Osterbeck
T HIS WEEKEND REMINDS me of the scene in downtown San Jose a few years ago, way before the advent of the ultralounge, before the Van got a MP3 jukebox and light years before I had to kick down an exorbitant cover charge and wait in a line just to grab a beer and a shot only to be sonically dazzled by some cookie-cutter DJ. You see; San Jose used to have a live-music scene; any given night you could catch up-and-coming local bands rocking their hearts out even if there were only 20 drunks and a glassy-eyed vagrant for groupies.
Things have changed, There are 10 killer bands hitting San Jo on Friday at three different venues, and I aim to hear every damn one of 'em. If you have the stamina, here's the ow- down on three outfits worth checking out on Friday (Nov. 10).
The Wiggle Wagons
OK, so the Wiggle Wagons aren't headlining this show (that would be Captured by Robots), which makes me put their turn on the red-lit Blank Club stage up first. Lead singer Daniel Grigg, a native of the backwoods of North Carolina, hitched a cracked road to San Jose with a high-powered rifle of fate and the vocal chops to tell the tale. Hooking up with longtime San Jose musician Bud Burke and his lightning-fast guitar licks and then adding fellow veterans of the local music scene, bassist Mark Sharp and drummer Adam Bishop, the Wiggle Wagons spawned a thrash-meets-twang sound that they describe as country shred.
This liquored-up and buzz-sawin' quartet's music grabs fans sporting 10-gallons and shitkickers rubbing elbows with ball caps and Chucks. The Wagons' sets are filled with equal parts of amped angst and soulful Southern pride that make you want to crack several beers and set fire to something.
The Obsessors
Next up are local punkers the Obsessors on the miniscule stage at Johnny V's. The Obsessors shoot their taser-style hooks—hot-wired directly to their amps—straight into your head and crank the volume up to 11. Straight out of the suburban digs to the nearest dive bar, the Obsessors hit with melodic riffs, harkening back to the gutter-laureate days of bands like original West Coast subversives X blended with the anti-materialist bent of Devo, spitting out bratty New Wave punk.
Fronted by Cobra Lily, who shares vocals with guitarist Kirby, the Obsessors belt out witty licks with horror-pop banter. Hearing them rip it up onstage takes you back to when you bought that first wax disc and danced in your bedroom till Mom yelled at you to turn it down. Stick around for the Runs, Terezodu and the Muckrackers on this bill.
The Chop Tops
When the needle hits E on the Friday night tank, check revved-up rockabilly rebels from Santa Cruz the Chop Tops tearing up the VooDoo Lounge. These throwbacks kick straight rockabilly of the tight as hell, neosinner, three-piece variety with a pomped standup drummer/ vocalist, a mad bass slapper and a Gretsch-wielding guitar slinger with chops that would make aspiring strummers weep.
The Chop Tops, in one blazing song, can rip you back in their sonic '57 Chevy to times when all you needed was an open stretch of road, a girl by your side and a roadside honky- tonk on Route 66. The Chop Tops' rockabilly style blasts you off the bar stool in a hail of gas, grease and liquor making me wish I had another few hours to take in the revival. Also on tap: Three Bad Jacks, Three Merry Widows and the Astro Zombies.
Send a letter to the editor about this story.