November 8-14, 2006
home | metro silicon valley index | the arts | visual arts | review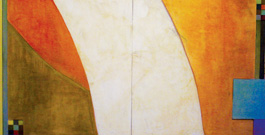 Abstract Relief: Carol Elkovich's 'Autumn Moon' (seen in detail) is built from layers of painted wood.
Beyond The Figure
A new show at the Triton Museum proves the enduring power of the abstract urge
By Michael S. Gant
REPORTS of the demise of abstract art—done in by minimalism, conceptualism and art for politics' sake—have been greatly exaggerated apparently. Just last week, a major icon of Abstract Expressionism, Jackson Pollock's drip painting No. Five, 1948, reportedly passed hands for about $140 million, surpassing the recent record prices realized by two figurative works, Klimt's Adele Block-Bauer I and Picasso's Le Rêve (at least until Vegas casino owner Steve Wynn stuck his elbow through the pricey canvas).
In the case of the Pollock, it doesn't hurt to have a movie made about the painter's life. Indeed, the New York school of muscular, dramatic abstract painting of the 1940s and early '50s exists as much as a narrative of creative angst as it does a body of works. In a quieter way, the Bay Area made its own significant contributions to abstract painting in the same period, in the canvases of Clyfford Still, Richard Diebenkorn, Frank Lobdell and others.
"Bay Area Abstraction: A Current View," now at the Triton Museum of Art in Santa Clara, does an admirable job of exposing new creations by nine artists who continue to find nourishment in the nonfigurative. The exhibit comes with helpful curatorial notes about the history of abstract art, but these pieces can be enjoyed directly without the educational intervention.
Charles Eckart covers his surfaces with a dense impasto of paint applied in small dashing daubs to create an encrustation of geological color. Ground Cover 47 pulses with closely packed eruptions of red. The painting won't settle down. It evinces the energy with which it was made.
In his large painting, SJSU art professor Patrick Surgalski uses rectangular bands of dry, muted colors. Referencing early Diebenkorn abstract landscapes, Surgalski hints at the material world in What the Night Tells Me, with red and brown earth tones rising to aquamarine hues, suggesting a high sky.
Pia Stern pushes her pieces toward Surrealism with visions that suggest deep space. In Reading the Waters, orange globes like mutant planets float above an imaginary blue waterworld in an inky vastness traversed by nervous inscribed yellow lines that might be comet trails or shooting stars. One of the joys of looking at abstracts is letting your imagination find its own referents.
The most intriguing pieces are Carol Elkovich's translations of abstract fields into 3-D relief sculptures fashioned from colored and stained strips of layered wood. The works appear flat from a distance, but up close, you can see that they protrude an inch or two, like the contour slopes in models for landscaping projects. The technique adds hints of shadows and turns brush strokes into wooden puzzle pieces. One corner of Autumn Moon contains a passage of nine colored squares arranged like a Rubik's Cube.
Also showing at the Triton are the highly evocative landscape photographs of College of San Mateo professor Lyle Gomes. His panoramic gelatin silver prints are made with an 4-by-5 format camera with the lens masked off to create an extremely horizontal image. The "widescreen" frame is perfectly suited to Gomes' subject: parks and gardens done in the classical Italian and English landscape styles. Ironically, these man- made vistas are devoid of people. Sometimes, a statue of a Greek god dominates one end of a pristine retreat, but often we see only empty benches situated beneath stately trees in the middle of carefully groomed meadows, walkways and topiary.
The most compelling pieces are Gomes' fog-wreathed vistas of San Francisco's Presidio park. Spindly Monterey pines hover in the thick morning mist. The only marker proving that we have not wandered into a totally enchanted wood is a prosaic 25 mph sign. These dreamy meanders conjure up thoughts of the mysteries of "old San Francisco" that Alfred Hitchcock evoked in Vertigo.
Bay Area Abstraction: A Current View ends Dec. 17 and Lyle Gomes: Imagining Eden ends Dec. 31 at the Triton Museum, 1505 Warburton Ave., Santa Clara. A reception takes place Nov. 9, 7-9pm. (408.427.3754)
Send a letter to the editor about this story.