November 8-14
home | metro silicon valley index | silicon valley restaurants | review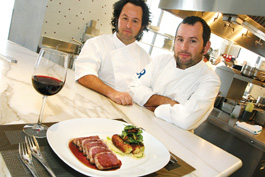 Photograph by Felipe Buitrago
Twin engines: Twin brothers Curtis (left) and Russel Valdez run the show at Seven; the black pepper ahi is one of their creations.
Lucky Seven
A hip urban vibe and big tastes have brought success to Valdez brothers
By Stett Holbrook
WHEN Seven Restaurant opened in San Jose three years ago, it was welcomed as an outpost of L.A. cool in a city with a deficit of urban swank. The industrial-chic interior, plush, high-backed booths, open kitchen and young, good-looking crowd woke up the city's eating and drinking scene with a swift kick in the Dockers. The upscale comfort food of chefs and twin brothers Curtis and Russel Valdez was just the thing for an evening of sybaritic delights.
Now in its fourth year, Seven is no longer a brash, flashy newcomer. It's part of the establishment. The restaurant's sleek décor is as hip as ever and the cozy lounge remains one of the city's coolest places to sip a drink. But the restaurant's urban edge isn't matched by the food.
For a place that puts such a premium on modern design and hipster appeal, the food is the least innovative part of the restaurant. While most of the dishes I had were quite good and full of big, sexy flavors, the Valdez brothers play it pretty safe with been-there-done-that dishes like crab cakes, roasted beet and goat cheese salad, black pepper-crusted ahi and pan-seared New York steak. For me, that made for a slight disconnect when set against the restaurant's cutting edge aesthetic.
Which is not to say I didn't eat well at Seven. Except for a few duds, most dishes hit the mark. Bacon seems to be the kitchen's favorite ingredient and that's OK by me. Spicy housemade sausage and duck confit ($13.50) is a big and bold starter that could easily work as an entree. The flat patty of aggressively seasoned sausage is paired with succulent bits of duck confit and a delicious white bean-bacon purée. Crumbled bacon and green onions helped round out the creamy, subtle sweetness of the sweet potato soup ($8). I loved the arugula and frisée salad ($9), a savory tangle of greens studded with blue cheese, thin pear chips and a warm bacon-balsamic vinaigrette.
The one dud was the crab cakes ($9.50 for two). Few restaurants, it seems, make a crab cake in which crab is the main ingredient. Too often breadcrumbs and other fillers dominate. That was the case at Seven. The crab cakes were more like crab-flavored-bread patties.
While they may not be breaking any new ground, the Valdez brothers have the upscale comfort food thing down cold. All the entrees I tried seduced with their hearty, saucy, succulent goodness.
While the salt level was a bit too high, the Moroccan spiced leg of lamb ($29), served off the bone atop mashed red lentils with a watercress and shaved fennel salad, was the culinary equivalent of a velvet bean bag. It envelops you with its comforting warmth. Paired with a big cabernet sauvignon, this is a great, end-of-a-long-day dish.
For me, chicken dishes can only fly so high, but the pan-roasted chicken ($22) soared. Lightly breaded and plenty juicy, the chicken was ringed with a light-stepping cumin beurre blanc and shared the plate with a tall loaf of butternut squash bread pudding and a small but mighty salad of arugula, shaved apples, pickled onions and, you guessed it, bacon.
Speaking of bacon again, don't miss the Brussels sprouts and pancetta (unsmoked Italian bacon) side dish ($5). If you think you don't like Brussels sprouts, eat this and prepare to be converted. The sprouts are sliced into little ribbons and sautéed with pancetta and butter. Man, oh man.
The lone pasta dish ($18) is a winner, or at least it was the first time I tried it. Ruffled lengths of tagliatelle are tossed with smoked chicken, pancetta, oyster mushrooms, pearl onions, roasted tomatoes, roasted garlic, cubes of mozzarella and arugula. It sounds like an everything-but-the-kitchen-sink kind of dish, but it united to create a rich, smoky dish perfectly offset by the acidic tang of the tomatoes. The second time I tried it, however, it didn't transcend the sum of its parts. And I think they forgot the pancetta.
Desserts are hit and miss. The bittersweet chocolate cake soufflé ($8.50) encases a molten chocolate filling inside the light yet almost brittle walls of the soufflé. It's a must order for chocolate lovers. The quartet of ice cream cones (pumpkin, cinnamon, coffee and blueberry; $6) was good but too much for one person. But the apple-rhubarb pie ($7) was flat-out awful. The crescent-shaped dessert looked like a McDonald's apple turnover and was a doughy, sticky, overly sweet mess.
San Jose is a tough town for chefs who want to try something new. In spite of the city's reputation for technological innovation, diners don't go out to eat looking for cutting-edge cuisine. This is a steak-and-potatoes kind of place. Seven seems to know this and carved out a good niche for itself by offering ambience that pushes the boundaries and food that tastefully reinforces them.
---
Seven Restaurant and Lounge
Address: 754 The Alameda, San Jose.
Phone: 408.280.1644.
Hours: Lunch 11:30am-2:30pm Mon-Fri; dinner 5-10pm Mon-Sat.
Cuisine: Contemporary American.
Price Range: $18-$29.
Send a letter to the editor about this story.