November 1-8, 2006
home | metro silicon valley index | columns | live feed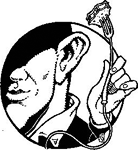 Live Feed
Day of the Lizard
By Stett Holbrook
O NE OF downtown San Jose's most popular taquerias, Iguana's, has reopened after a nasty legal battle that shuttered the South Third Street business for 18 months. The Orozco family, which operated the restaurant for 12 years before being forced to close in July 2005, reached an out of court settlement with former landlord Malcolm Durham. The taqueria, famous for its "burritos as big as your head" and late-night hours, reopened Oct. 23 to a welcoming, and hungry, crowd.
"It took two years and a lot of headache to get what we wanted," said a happy Sam Orozco.
After Iguana's and the adjacent Cafecito cafe got the boot, Durham and building co-owner Tony Bayard de Volo opened Macho Taco, a taqueria that never quite took off. After it closed, another taqueria followed, but it too failed. After 12 years of business, Orozco said he was pleased to see how loyal his customers were. Many boycotted the other taquerias, he said.
Iguana's troubles all started when the Orozco family was in the process of buying the building. A dispute over the terms of escrow threw the sale into legal turmoil, embroiling both sides in lawsuits and mediation that culminated in the Orozco's eviction. But mediation between the two parties continued, and they finally reached a mutually acceptable agreement: The Orozcos would be able to purchase the business and reopen their restaurant and Durham could unload a building that was not making him any money.
"It should have never gotten this far," said Orozco.
He actually settled the case in September but spent weeks overhauling the building's plumbing, electrical system and floors before reopening last month.
Although the menu now includes a selection of low-priced items, everything else is the same. There is one big change, however. Sam and his wife, Lizzie Orozco, no longer own the business. They passed ownership onto their sons, Jeremy and Samuel, something they had always wanted to do.
"I thought this would be a good time for them to take over the business," said Sam Orozco. "I wanted to make sure our children had this legacy."
Send a letter to the editor about this story.