November 8-14, 2006
home | metro silicon valley index | the arts | stage | review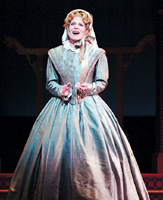 Photograph by David Allen
Boone Times: Debby Boone travels to a Siam of the mind in 'The King and I.'
Royal Musical
American Musical Theatre of San Jose shows out a king's ransom in sets for 'The King and I'
By Marianne Messina
WHAT DO YOU get from a local production that you don't always get from a touring show? Set pieces—and lots of them. Lavish, detailed, colorful set pieces, in this case designed for New Jersey's Paper Mill Playhouse by resident designer Michael Anania and imported for American Musical Theatre of San Jose's production of The King and I. Delicate carved wood balconies looking out over spires and rooftops to a glowing moon create the musical's romantic vision: the royal palace, 19th-century Siam (Thailand), where Welshwoman Anna Leonowens has come to teach the king's children.
The luxury of transporting and adapting this set for a single stage has given us cloud-dappled skies and marble-columned palaces, a palatial bedroom with balcony and city-top view, a large canopy bed, cascading silk drapes in pale blue and trimmed in gold (so much gold!), and a palatial theater (in which the king's concubines present their adaptation of Uncle Tom's Cabin) framed in the open mouth of a tiger. And it's all so flawlessly rolled or dropped into place that an engineer next to me who normally finds himself distracted by the staging mechanics reported enjoying the show too thoroughly to notice.
Barbara Day Turner and orchestra made healthy, vibrant music, truly a relief from the wincing and holding of breath some of the touring shows induce. As seasoned performer Debby Boone lets Anna articulate the mood or the moment to a human (not a metronome) rhythm, Turner deftly keeps the orchestra on top of it. Boone's talent has the kind of headroom that makes a wonderful Anna, a lady in total control of the song, right from the intro. With echoes of Julie Andrews, Boone gives the great songs—"I Whistle a Happy Tune," "Hello, Young Lovers," "Getting to Know You," "Shall We Dance"—a nostalgic glow that's more about recollected innocence than bygone eras.
If you've got Yul Brynner in your head as the King of Siam, dispose of him right away, from vocal timbre to physical demeanor. The diminutive Francis Jue is as lovable as Brynner was imperious. As a result, it comes as no surprise (and it probably should) when this king doubts himself in "The King of Siam." But having a more transparent king works to shift the show's weight and moment to the "Something Wonderful" concept, in spite of more obvious candidates, like young love and anti-slavery. But that this emphasis occurs in spite of the song's stand-by-your-manness is due to the grace Irene Liu Trapp brings to First Wife Lady Thiang. Trapp elevates the schmaltzy, gender-typed "Something Wonderful" to an insight on the selflessness required to support the best in a person, especially when it means compromising with their flaws.
The sparkle and splendor of a myriad of elaborate costumes make this show a sensual experience and a lift for the heart; light laughs off tiny mirrored surfaces; air dances in Anna's lavender billowing gown as she and the king bounce over the floor in "Shall We Dance." The dozen or so little princes and princesses are so adorable that at this midweek performance they were a constant source of murmuring and chuckling through the house. I could not keep from wishing the curtain would "accidentally" come down before the story's embarrassingly absurd send-off, when the capstone on the life of a great Eastern king turns out to be a Western curtsey and bow. Yes, we need to take off our analytical hat for this story—tuck it in a hat box in the attic—but AMTSJ's smooth production, with dazzle and everything but a white elephant, makes it easy to just enjoy.
The King and I, presented by American Musical Theatre of San Jose, plays Tuesday-Friday at 8pm, Saturday at 2 and 8pm and Sunday at 1 and 6:30pm through Nov. 12 at the San Jose Center for the Performing Arts, 255 Almaden Blvd., San Jose. Tickets are $13.75-$73. (888.455.SHOW)
Send a letter to the editor about this story.