November 8-14, 2006
home | metro silicon valley index | the arts | books | review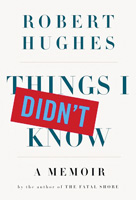 Things I Didn't Know: A Memoir
(By Robert Hughes; Knopf; 395 pages; $27.95 cloth)

Robert Hughes, the longtime Time magazine art critic and author (The Fatal Shore) charts the first half of his life in this stylish, if occasionally dyspeptic, memoir. The book proceeds from his Catholic boyhood in the Antipodes to his intellectual flowering in England, Italy and Spain to his arrival in New York and hiring, in 1970, by the Luce empire (about whose editing and prose style he tosses off several trenchant quips). Much of this journey is defined by Hughes' gritty relationship to Australia, especially its ingrained provincialism, against which he rails ceaselessly. This contentiousness has earned him plenty of enemies, and it is easy to see why. The remarkable opening chapter relates Hughes' side of a 1999 auto accident that left him severely injured but also at the mercy of the courts and the media. Even when he comes across as sympathetic, he can't help himself; "I shot myself in the already too-much-violated foot," he writes about an off-the-cuff remark that the tabloids seized on to accuse him of snobbery and elitism. Hughes freely admits to the latter charge, especially since it informs his art criticism: "I prefer the good to the bad, the articulate to the mumbling, the esthetically developed to the merely primitive, and full to partial consciousness." The book offers a feast of particulate memories that expand to hard-won universalisms: on the day as a boy when he caught a large bonito in Sydney Bay, "its noble, fusiform little corpse ... filled me with respect and with what I now realize was a first stirring of desire for the Ideal." Although this is not a work of criticism, Hughes writes movingly about his encounter with Italian religious sculptures and frescos: "I was beginning, at last, to derive from art, from architecture, and even from the beauty of organized landscape a sense of transcendence that organized religion had offered me—but that I had never received." Hughes also deals out polished anecdotes (and a few brickbats) with the ease of a card shark. At one of his first Australian newspapers, the editor "burst into ... the small staff room. 'I've just fired the art critic,' he announced. 'Anyone here know anything about art?' Nobody spoke up. [His] gaze settled on me. 'You're the cartoonist,' he snapped. 'You ought to know something about art. Good. Well, now you're the fucking art critic.' He strode out the door, leaving me to contemplate my fate." Luckily for us, that fate led to such classics as The Shock of the New, Goya and, now, this marvelous memoir.
Review by Michael S. Gant
Send a letter to the editor about this story.