November 8-14, 2006
home | metro silicon valley index | the arts | books | review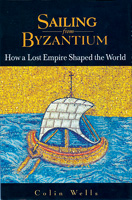 Sailing From Byzantium: How a Lost Empire Shaped the World
(By Colin Wells; Delacorte Press; 335 pages; $22 cloth)

After the barbarian hordes buried Rome in the Dark Ages, the tenuous connection to the Greek heritage that informs Western society was kept alive by the Byzantium Empire. Constantinople's stewardship of the West's intellectual patrimony was a prickly business, writes historian Colin Wells in his compact account of how the old wisdom survived: "Their ancient pagan literature was at once too barbed with secular reason and other dangers for the Christian Byzantines to embrace too closely, yet too imposing, too downright gorgeous to dismiss altogether." Ultimately, the Byzantines embraced religious purity and succumbed to the Turkish invaders in 1453. But in the meantime, through an intricate maze of theological disputes and the proselytizing of traveling scholars, Greek learning was dispersed throughout the West, where it jump-started the humanist revolution, and to the East, where it inspired Islamic scientists and philosophers to extol the values of reason. Wells' chronicle condenses an enormous amount of material and can be overwhelming at times. The first two sections—on the West and the Islamic World—maintain a discernible thread, but the final section, about the Slavic lands, disintegrates into a long slog through a forgotten roster of warlords and princes: "Among the original Varangians had been a prince called Rurik, who became ruler of Novgorod in the north and progenitor of the future tsars of Russia up to 1568."
Review by Michael S. Gant
Send a letter to the editor about this story.