November 9-15, 2005
home | metro silicon valley index | movies | current reviews | film review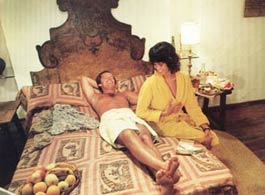 Photograph by Floriano Steiner/Courtesy of Sony Pictures Classics
Rest and Relaxation: Jack Nicholson and Maria Schneider take a break from their existential quest in 'The Passenger.'
The Vanishing
'The Passenger,' Antonioni's 1975 riddle wrapped in a mystery wrapped in Jack Nicholson, returns
By Richard von Busack
THERE IS no better proof of the distinction of director Michelangelo Antonioni The Passenger (1975) than its ending. The continuous tracking shot is paralleled by Orson Welles' famous opener for Touch of Evil. It is also akin to the murder scene in Michael Snow's experimental film Wavelength, where a violent death occurs just past the corner of a camera's one glass eye.
The idea is that a momentous event can happen in the midst of everyday life, unobserved by a crowd occupied with its business. The finale is shot through the anti-burglar bars of a hotel room. And then the camera unobtrusively slips through the window. Antonioni scopes out the plaza of an isolated desert town on the edge of Spain. Various figures wander outside a closed bullring; we can hear a trumpeter inside, practicing for the coming Sunday. Kids play with a dog, adults hold various conversations in inaudible Spanish, cars screech and bustle out. After staring at the plaza for a few minutes, it seems that the arch over the bullring's gate is peculiarly shaped like an Omega—the last letter of the Greek alphabet, symbol of the end of things.
Jack Nicholson plays David Locke, a 37-year-old English journalist whose disenchantment is turning to fury. In the middle of the Sahara, where he is pursuing an interview with armed rebels, Locke has a chance to escape the demands of his life. Exchanging identities with a corpse, he flees. Unfortunately, the dead man was a successful gun runner with unfinished business. As the journalist formerly known as Locke wanders to Spain, he is pursued not only by the dead man's customers but also by his boss (Ian Hendry) and his far-from-grieving widow.
Antonioni is the exact opposite of Hitchcock, and he turns this workaday thriller plot into a story of isolation. The protagonist is not named Locke for nothing, and he can't slip his chains by becoming an International Man of Mystery. He learns that cars break down after a chase, or that they get swallowed in dunes of salmon-colored sand. And living out life in rented cars and hotels gets dull by repetition. Antonioni takes us to the tour spots of Barcelona: Gaudi's mansions, the Montjuïc cable car and Las Ramblas. Locke has one burst of traveler's enthusiasm on the tram—leaning out of the cable car, Nicholson poses like a seagull, with arms wide, floating over the oily harbor 500 feet below. But even the woman he picks up (the baby-faced Maria Schneider, of Last Tango in Paris) treats their liaison like an afterthought. She gets to fly as well, standing in the backseat of a convertible speeding down a leafy arcade of plane trees. Indeed, she could fly away at any moment.
"He accepted too much," says Locke's "widow." Locke, a passenger on the ride that is his life, is as pure an existential hero as any in film. Antonioni's anti-espionage movie is also an anti-espionage-movie movie and, ultimately, an anti-movie movie. In addition to its mellow appreciation of oblivion, it shows an unusual side of Nicholson. He appears small and even frail against the white-limed walls and rocky courtyards as he drifts to his appointment in Samarra.

The Passenger (PG-13; 119 min.), directed by Michelangelo Antonioni, written by Antonioni, Mark Peploe and Peter Wollen, photographed by Luciano Tovoli and starring Jack Nicholson and Maria Schneider, opens Friday at Camera 12 in San Jose and the Aquarius in Palo Alto.
Send a letter to the editor about this story.