11.11.09
home | metro silicon valley index | silicon valley restaurants | preview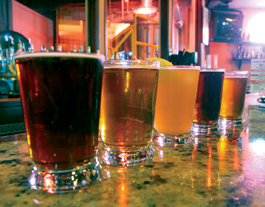 Photograph by Felipe Buitrago
GLASS ACT: Firehouse Brewery's finest await thirsty connoisseurs.
Ale Fellow Well Met
Steve Donahue crafts artisan beers for Firehouse Grill and Brewery in Sunnyvale
By Stett Holbrook
DURING THE final game of the World Series last week, Sunnyvale's Firehouse Grill and Brewery was packed. Patrons pressed against the bar with beers in hand, and every table was taken. It was hard to hear as the Yankees-loving crowd cheered the team on to yet another World Series win.
Amid all the rowdiness in the brewery, Steve Donahue worked in solitude behind a sheet of glass that frames the back of the bar. Like a fish in an aquarium, Donahue is visible to everyone as he tends the kettles and pumps, wearing knee-high rubber boots, a T-shirt and a baseball cap.
Inside the brewery, the cement floor was wet with water and the occasional sticky overflow from beer in different stages of brewing. Donahue is Firehouse's brewmaster and he spent the final game of the Yankees/Phillies match-up tending a new batch of imperial stout.
Even though Murphy Street in front of the brewpub is an impassable mess of construction that will turn it into a pedestrian mall by next spring (or so they say), people still flock to the restaurant and brewery for food and some of Silicon Valley's best locally made beer. There are a half-dozen local brewpubs, but I would put Firehouse at the top. Donahue's beers are outstanding.
At the California State Fair Commercial Craft Brewing competition, Donahue won a gold medal for his pale ale, a silver for his Scotch ale, red ale and hefeweizen and a bronze for his Irish stout and maibock. Donahue also picked up a bronze medal at the Great American Beer Festival in Denver this year for his Baltic porter. Not too shabby.
Donahue has been brewing for 14 years. He got his start at Gilroy's late great Coast Range Brewing, where he worked under the wing of local brewmaster extraordinaire Peter Licht. From there, he moved on to brew at the Los Gatos Brewing Co. and at Stoddard's in Sunnyvale, which was later taken over by Firehouse.
Donahue currently has five of his beers on tap: Oktoberfest, pale ale, hefeweizen, abbey dubbel ale and Hops on Rye. For me the Belgian-style dubbel ale and überhoppy Hops on Rye are the real standouts. But then, the rich and well-balanced Oktoberfest is great, too.
To make a batch of pale ale, Donahue uses 18 pounds of hops. For the Hops on Rye, he used a staggering 72 pounds. You won't know what that means until you try a glass. It's as hoppy as all get out and refreshingly bitter, but deliciously drinkable. This one is a real sipper. So is the winey dubbel ale. I drank mine with a Cuban sandwich, and it was a fantastic match.
I didn't expect much from Firehouse's food beyond the typical brewpub standards, but the kitchen renders many of those dishes quite well.
Best of all is the "media noche" ($10), a Cuban sandwich made with outstanding slow-roasted pulled pork that's crusty and caramelized in places and juicy and succulent in others, smoked ham and Swiss cheese. The excellent toasted roll held it all together. I also liked the pale ale–braised baby back ribs ($21 full, $15 half-rack). Although the smoke flavor was restrained, the flavorful meat and pleasantly spicy sauce made the ribs memorable.
Less good was the drab rotisserie duck ($18) and the lackluster pizza margherita ($9). The garlic fries ($6) were disappointing, too, because they lacked much of the requisite garlic. A better starter is the seared ahi with arugula salad ($11).
I'm looking forward to the release of Donahue's winter brews, but what really intrigue me are his barrel-aged beers. His Scotch ale and imperial red stout have been in bourbon barrels for about a year and should be ready for drinking sometime this winter, once they pick up enough caramel and vanilla flavor from the booze-soaked oak. They promise to be the kind of brews you want to drink fireside.
"I'm going to wait until the weather is cold to release them," Donahue says.
His other project is aging hefeweizen and Scotch ale in red-wine barrels. He has added sour cherries to one barrel and sprinkled a little Brettanomyces yeast throughout. The yeast adds a distinct barnyard-funk flavor to wine as well as the complex, horse-blanket flavors found in Belgian Lambics. Donahue joins a small group of bold brewers in the United States who are playing with the wild and wooly strain of yeast. "I'm just figuring it out as I go," he admits.
But don't hold your breath for a taste anytime soon. These will be in the barrel for about two years.
What would he be doing if he wasn't brewing beer? Donahue says he has no idea. Brewing is it.
"I have no other skills," he says.
Lucky us.
---
Firehouse Grill and Brewery
Address: 111 S. Murphy Ave., Sunnyvale.
Phone: 408.773.9500.
Hours: Lunch 11:30am–3pm Mon–Fri, noon–4pm Sat–Sun; dinner nightly from 5pm to close.
Price Range: Entrees $10–$34.
Web: Firehousegrill.com.
Send a letter to the editor about this story.