11.11.09
home | metro silicon valley index | movies | current reviews | review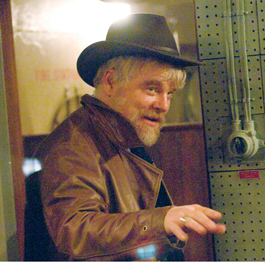 Photograph by Alex Bailey
UP FOR THE COUNT: Philip Seymour Hoffman plays an American DJ in 'Pirate Radio.'
Sea Sick
'Pirate Radio,' a look at '60s broadcasting anarchy in the U.K., is all wet
By Richard von Busack
DISMISSING Pirate Radio as a bad film made by bad people is shirking responsibility. It's an easy shot to describe it as a sinking ship—Pirate Radio tries to top the ending of Titanic with a new Miracle of Dunkirk. But Pirate Radio is handily the worst movie of the year, and that alone gives it some stature, some worthiness of dissection.
Director/writer Richard Curtis' Pirate Radio, a.k.a. The Boat That Rocked and a few worse titles, wastes a roster of first-rate actors, including Philip Seymour Hoffman, Bill Nighy, Nick Frost and January Jones. Curtis also rubbishes a fascinating story, the history of how ship-to-shore radio short-circuited the BBC's ban on rock music during the 1960s. Those interested in the facts of the matter are led to John Dougan's book on the album The Who Sell Out, part of the 33 1/3 series.
Taking this interesting David and Goliath story, Curtis' inspiration was to put pontoons under Animal House and float it. Kenneth Branagh plays the John Cleese–like fussy inspector, who determines to use the British government to shut down the musical madcaps afloat on a boat, broadcasting in the North Sea. It's not a one-note performance, it's more like a quarter-note. Branagh turns up, sputters at an assistant and then repeats this effort at least six times over the course of the film.
Nighy plays the saturnine owner of the boat, and he has the proper louche 1960s air but nothing to do with it; he stands around, making the sour persimmon face, and we wait for something to happen. Tom Sturridge plays the ship's cabin boy—he's there because he's supposed to be looking for the father he never knew among the radio men there. And he's also trying to lose his male-maidenhead, to one of the many girls who drift aboard and leave afterward.
Hoffman is the legend-in-his-own mind American DJ called the Count, whose big moment is replaying John Goodman's "Ever heard of Vietnam?" routine from The Big Lebowski. Some rivalry is established when a fellow Yank DJ arrives on the boat: repeat-offender Rhys Ifans playing the silky (or rather drippingly oleaginous) Gavin Cavanaugh.
Needing something to cut to, Curtis shows the listeners to the radio in England; some rocking out on the toilet (three separate shots); most are frozen, their necks are craned, as if they were Communist slaves taking in the last broadcast from Radio Free Europe. But what the Rock Boat is spinning is surprisingly moldy-oldy needle drops. The cast tries to glom on to this music's fading energy, like people trying to warm themselves around a fire made of toothpicks.
Pirate Radio has a stink on it. It's the aura of flop-sweat: of people trying too hard at a show, such as has been decried by critics going back to Nietzsche. It also has the mungy odor of a film made by people thoroughly sure of themselves—Elvis Costello's song about radio sums this self-importance up: "They really think we're getting out of control."
The movie's self-congrats lets the cast look at all women as potential groupies. Pirate Radio is especially rough on the actresses. Katherine Parkinson plays Felicity, a declared lesbian; she's a minority, but what exactly is she doing on the boat? I don't recall even seeing her make tea for the boys. (If Curtis was going to rewrite history so much, why not give a woman a shot at the turntable?)
Jones—we know how good she is from Mad Men—has to give a speech about why she married one man just to get closer to another; this goes beyond a challenge to an actress and is some kind of special category of sadistic wastage. Emma Thompson is smarter—she turns up immersed in a turtleneck sweater that seems to be devouring her. Blinkered by sunglasses, she may hope not to be recognized whatsoever.
The self-importance of rock & roll—lampooned so beautifully in one of the year's best films, Anvil! The Story of Anvil—causes a moment of great dismay-inducement. It's an end-title crawl brandishing 40 years' worth of album covers to prove that rock had a great run despite its enemies.
Among this parade—Grace Jones, disco with a capital D, part of rock's history?—is the cover of the aforementioned Elvis C's My Aim Is True. That was the album, you'll recall, that dismissed the kind of radio-DJ self-love this film wallows in, hippopotamus-wise: "The radio is in the hands of such a lot of fools trying to anesthetize the way that you feel."

PIRATE RADIO (R; 135 min.), directed and written by Richard Curtis, photographed by Danny Cohen and starring Bill Nighy and Philip Seymour Hoffman, opens Nov. 13.
Send a letter to the editor about this story.