11.11.09
home | metro silicon valley index | columns | style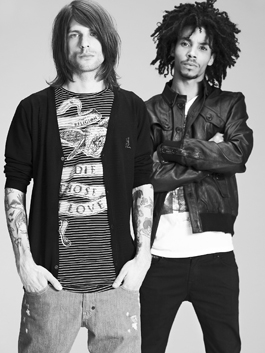 BOY ON A MOTORCYCLE: U.K. brand Religion is the go-to style house for hipster leather motorcycle jackets.
Leathered Up
By Jessica Fromm
LEAVES are on the ground, leftover Halloween candy is settling into everyone's spare tire nicely and the brisk winter weather is approaching at full force. As gentlemen drag out last year's outerwear, it may become painfully obvious that they are in need of some snazzy new duds to shield them from the elements.
To the chagrin of the animal-rights activists, there is no denying that leather is huge in men's collections lately. Though none but the most confident men should venture into the land of leather pants (a trend that has reared its ugly, chafing head once again in fall 2009), the most versatile of cowhide incarnations, the leather jacket, is a must-have item for men this season. There really is nothing so sexy and badass as a good-looking guy in a well-fitting leather jacket. Plus, it's a garment that will look just as good with jeans as it will with slacks and a tie.
Although leather jackets are an enduring look that will never go out of style, cuts and fits tend to correspond with the decade the jackets were acquired, much like tattoos (tribal armbands, anyone?). Right now, the look dominating stores is Members Only–esque, tight, short and pocketed, circa the early '80s. Though this ironic style is a great trend for this winter, it's important to remember that a quality leather jacket is an investment piece that one will want to wear for at least a few years. As such, find a style that not too baggy and can roll with the times. Try Ralph Lauren, Diesel and Cole Haan for some classic jackets, like moto-collars, bombers and the zippered motorcycle-look.
If one is in the market for something a little trendier, there are plenty of alternative leather jacket variations to stand out from the crowd this holiday season. Experiment with lengths, from knee to hip-length, and find colors outside the classic brown/tan/black range. For those of the hipster persuasion, the English-style brand Religion has a variety of cool leather jackets that are pure rock & roll.
Send a letter to the editor about this story.