11.12.08
home | metro silicon valley index | the arts | visual arts | review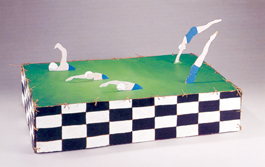 Artwork and image courtesy of the Estate of Joan Brown and Gallery Paule Anglim, San Francisco
EVERYBODY IN THE POOL: Joan Brown's 1974 'Swimmers' adds a dimension to one of her favorite painting subjects.
Material World
The artists in 'This End Up' at the San Jose Museum of Art work wonders with common cardboard
By Michael S. Gant
PRAISE IS due the humble cardboard box. In the larger crate sizes, it houses the homeless—a function we may need more than ever in the Great Depression II. Smaller sizes bring presents in the mail; Amazon and eBay wouldn't have been possible without cardboard boxes to move the actual merchandise after the virtual transaction.
Cardboard possesses considerable structural possibilities for the artists in This End Up: The Art of Cardboard at the San Jose Museum of Art. Architect Frank Gehry folds sheets of corrugated cardboard into elegant S curves and then gently compresses them; the result is both a pure form and a plausible Ottoman.
Stephanie Syjuco ups the ante with her Craftsman Chair, a simulacrum of a wide-armed, slat-sided recliner. The back rails follow the familiar Craftsman curve, and the tongue-and-groove joinery is faithfully reproduced. Gustav Stickley would surely admire the attention to workmanship, although he would regret the loss of patina.
Cardboard proves to be a cheap, malleable and multipurpose material. For English artist Chris Gilmour, cardboard is a modeler's raw material. His microscope replicates all the intricately knurled brass wheels of a laboratory antique with virtuosic skill.
In a funkier vein, L.A. artist Phranc (better known as a genre-crossing punk musician) glues together cardboard strips with tissue-paper inserts and hangs them on a cord with clothes hangers as Bra & Girdle. They look just about as stiff and itchy as real undergarments from the pre-feminist bullet-bra era.
Another even more unsettling garment is Kiel Johnson's Survival Mode, a cardboard combination belt and bandoliers bristling with straps and holders for cell phones, beepers and other accoutrements required by today's terror-fearful citizen. The lightweight material adds a note of anxiety and temporality to a heavy subject.
Cardboard's functionality as a surface for signage occupies Robert Rauschenberg, whose Cardboard Door (1971), assembled from a variety of flaps and folded boxes, hangs on a wooden frame like a demo model at a big-box store. In a nifty bit of trompe l'oeil, Rauschenberg actually silk-screened the various warnings ("fragile") and manufacturer's labels onto his surfaces, thus, in a sense "making" cardboard rather than just appropriating it.
Samuel Yates gets off the show's best joke with an ceiling-scraping stack of 21 plain brown boxes, each emblazoned in blue block letters with the word "Blah"; it is a modern "Tower of Blah-bel." Only the top box is open—all that mindless chatter has to escape somewhere.
The colorful fruit and vegetable packing boxes that make up Cristina Cantu Diaz's walk-through arch titled Triunfo del Trabajador belie the back-breaking labor, much of it performed by migrant workers, that went into filling them. Another version of this monument (the interlocking boxes are anchored with hidden rebar) showed last year at MACLA.
Ann Weber uses cardboard for purely sculptural ends, stapling together shellacked strips of cardboard into an organic bulb shape rising to a curved stem in Night Blooming I. The piece evokes traditional Japanese bamboo basketry on a budget. Weber is also currently showing a roomful of biomorphic constructions at the Triton Museum in Santa Clara.
In a satisfying act of transformation, Joan Brown's 1974 Swimmers is a 3-D cardboard version of one of her paintings. A checkerboard-patterned box is topped with cutout figures of swimmers and divers in blue trunks, their legs and arms rising from the green surface of a pool.
The best piece is a marvelously effective Hawk, done in the late 1950s by sculptor Manuel Neri (subject of a current retrospective at the San Jose Institute of Contemporary Art). With just a few pieces of bent cardboard, sutured together with coarse twine and rising from wire feet, Neri manages to catch the essence of this raptor as easily as if he had made a rapid field sketch. The hawk feels animated, ready to fly. In Neri's hands, even cardboard has the expressive weight of marble.
THIS END UP: THE ART OF CARDBOARD runs through Feb. 15 at the San Jose Museum of Art, 110 S. Market St., San Jose. (408.271.6840)
Send a letter to the editor about this story.