11.12.08
home | metro silicon valley index | the arts | books | review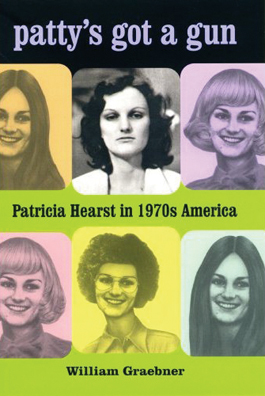 Patty's Got a Gun: Patricia Hearst in 1970s America
Reviewed by Richard von Busack
CUJO, TEKO, Teko, Cinque, MizMoon, Zoyal, Fahizah and Gelina. On funny-name-value alone the Symbionese Liberation Army should have been doomed from the start. Almost exclusively country-club-class rebels, these revolutionaries of the mid-1970s were disowned by both the Black Panthers and the Weathermen. These warriors left behind a couple of unarmed corpses, a couple of plundered banks, a shot-up sporting goods store and one very famous victim—or was she a victim? In Patty's Got a Gun: Patricia Hearst in 1970s America, historian William Graebner, using trial transcripts and the reliable time-travel device of old newspapers, delves into the way Patty Hearst changed from a person to a personality. What was she? A dizzy heiress? A woman who, as her fiance, Steven Weed, wrote, longed only for "two kids, a collie and a station wagon"? Did she drop into the SLA's hands like ripe fruit, radicalized by Berkeley's "violence-prone eggheads"? Or was she the threatened, brainwashed victim of a cult?
Her own words are little help. You don't have to be Slavo Zizek to suspect that a memoir titled Every Secret Thing is bound to be a smokescreen. Patty's side of the story ultimately fogs matters more than illuminating them. The outline of Patty's trial—loonier than the one in the movie Chicago—introduces the popular film into the subject; the author's citations of Phil Kaufman's excellent remake of Invasion of the Body Snatchers seem appropriate for understanding how America understood Patty. So does mentioning one of the 1970s' greatest hits, The Exorcist.
What entices the author is the way this woman became a Rorschach test for popular fears of "permissiveness," cult mania and fear of crime. Patty was, Graebner writes, a nexus for "a wide variety of cultural anxieties." And her misadventures are key to the beginning of the big chill of the 1980s. (By William Graebner; University of Chicago; 218 pages; $20 hardback)
Send a letter to the editor about this story.