11.12.08
home | metro silicon valley index | music & nightlife | classical preview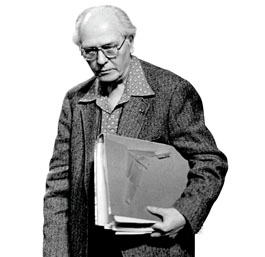 TIME PIECE:
Olivier Messiaen's 'Quartet for the End of Time' will be performed Thursday at Stanford.
Century Man
By Michael S. Gant
THE centenary for French composer Olivier Messiaen has taken up a surprisingly slice of classical programming across the country, including a performance by the Antares Quartet of Quartet for the End of Time, this past Spring at Montalvo Arts Center. Stanford's Lively Arts Series pursues the theme with a series of concerts called "The Messiaen Centenary," beginning Nov. 13, and concluding next year in January and February.
Stanford, too, will start by focusing on Messiaen's famous Quartet for the End of Time, which dates to the composer's incarceration in a German prison camp during World War II. The work was written for some of his fellow inmates, who were accomplished musicians. What began as a trio was expanded to eight movements for clarinet, violin, cello and piano. The haunting piece will be performed by the St. Lawrence String Quartet along with Stanford organist Robert Huw Morgan. Morgan will also provide some glimpses into Messiaen's other organ compositions, notably Livre du Saint Sacrement. To help put the great mystical composer in context, author Paul Griffiths (Olivier Messiaen and the Music of Time), will discuss Messiaen's life and work an hour before the concert.
THE MESSIAEN CENTENARY concert series begins Thursday (Nov. 13) at 8pm at Memorial Church, 450 Serra Mall, Stanford University. Tickets are $22–$44. (650.725.ARTS). PAUL GRIFFITHS talks about Messiaen at 7pm in Bldg. 60, Rm. 120, Stanford. Free.
Send a letter to the editor about this story.