11.12.08
home | metro silicon valley index | silicon valley restaurants | review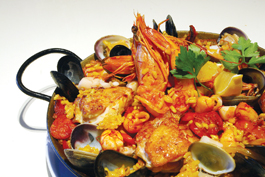 Photograph by Felipe Buitrago
PAELLA PIPER: Joya's take on the classic Spanish dish
Joya Cooking
La Strada owners expand into new world of modern Latin cuisine
By Stett Holbrook
LA STRADA has established itself as one Palo Alto's premier Italian restaurants and now the owners are looking to make their mark with Spanish and Latino food at 3-month-old Joya. They didn't go far to do so. The new restaurant is right next door.
Like Joya's servers, the restaurant has good looks to spare. It's hard to believe the place was once a bank. It reportedly took two weeks just to remove the vault. The restaurant has undergone a top-to-bottom remodel and has been done up in a cool, modern style with horizontal wood panels, exposed steel and a glassed-in wine cellar featuring selections from the eclectic wine list. The wall of windows at the front of the restaurant can be pulled back to open to the sidewalk, perfect for what's left of our warm afternoons. In addition to the dining room, there's an appealing lounge, a cozy bar and space for private parties. It's easily one of University's Avenue's best-looking restaurants.
Too bad the food doesn't always measure up to the high-style swagger of the restaurant itself. Chef Fabrice Roux, formerly of the Grand Café in San Francisco, has created a well-priced menu of "modern Latin cuisine" that pulls in equal measures from Spain and the New World. On the plate, the food ranges from the magnificent to the mediocre.
Tapas make up more than half the menu, and there are plenty of winners. Head straight for the camarones al ajillo ($9.50), head-on white shrimp from the Gulf of Mexico suffused with a rich, garlic-laced, piquant pimento sauce. I was sucking up every last bit of sauce from this one. For sheer comfort value, the trio of short rib tacos ($9.50) are a must-order, too. The tender, well-sauced beef loaded inside thick corn tortillas works as a small entree or a filling starter. For something lighter but just as big in flavor, the boquerones ($6.50) are a well rendered classic Spanish appetizer of marinated anchovies astride a crisp crostini, queso fresco and a thatch of peppery arugula.
From the list of entrees ("platos fuertes" on the menu) the Cuban spiced pork tenderloin is a standout ($18). The moist, beautifully caramelized slices of pork make for a hearty, satisfying meal when paired with the wonderfully smooth and rich sweet potato purée and red onion compote, an accent that packs a spicy (and undisclosed on the menu) finish.
By itself, the grilled Pacific halibut ($21) is as plain as sliced white bread, but when matched with the nutty romesco sauce and braised chard, the white fish, red sauce and green vegetable combine to create a delicious dish that's greater than the sum of its parts.
From the lunch menu, the Cuban sandwich ($12) is one of the best specimens of this oft-imitated classic I've had. Slow-braised, tender pork, Black Forest ham, caramelized onions and the sharp bite of Dijon mustard combine for a great sandwich. The light but crusty francese-style roll and crispy sweet potato fries seal the deal.
Those are the highlights. Several dishes I tried suffered from timidity and a chronic case of ho-hum. Take the papas bravas ($4), a staple of any tapas menu. In Spain, this dish is a standout because the spicy, vinegary, crisp-on-the-outside, moist-inside chunks of potato stand in contrast with other generally mild-mannered Spanish tapas. But at Joya, the potatoes pack none of their requisite punch. "Papas bravas" means angry potatoes, but these guys seemed only mildly annoyed. Texturewise, they lacked the aforementioned crisp and moist attributes.
Mussels and chorizo ($9) is another classic Spanish dish, but here the unassuming little dish left me wanting more—more flavor, more personality.
Jerk chicken ($17), Jamaica's signature dish of grilled chicken infused with a spicy, aromatic marinade, was juicy and well cooked, but I would have been hard pressed to pick it out of a lineup as jerk chicken. It just tasted like grilled chicken to me.
The trio of Kobe beef miniburgers ($11) promised big things with a mix of chipotle mayonnaise, Oaxacan cheese and chorizo. While the beef itself was flavorful and rich, the stale, dry bun cheapened the dish.
Joya's desserts are strong and go a long way toward making up for any shortcomings on the rest of menu. The churros with bittersweet chocolate sauce ($8) might just be the best I've had. Made with milk instead of water, the fried dough is soft and creamy and melted on contact with my mouth. If you order nothing else get these. Molten chocolate cake ($9) is like the Budweiser of desserts; it's everywhere. But it's not as good everywhere as it is at Joya, especially when paired with dense, thyme-scented ice cream. The only dud I encountered on the dessert menu was the crème brûlée ($7), another overexposed dessert that was coarse and grainy and exhibited none of its characteristic silkiness.
For the street that has everything, Joya is still a solid addition to University Avenue. If you choose wisely and ask the helpful servers for recommendations, it's easy to find yourself attracted to this newcomer.
---
Joya
Address: 339 University Ave., Palo Alto.
Phone: 650.853.9800.
Hours: 11:30am–10pm Sun–Wed and 11:30–midnight Thu–Sat.
Cuisine: Modern Latino.
Price Range: Entrees $14–$28.
Web: joyarestaurant.com
Send a letter to the editor about this story.