11.12.08
home | metro silicon valley index | movies | current reviews | dvd review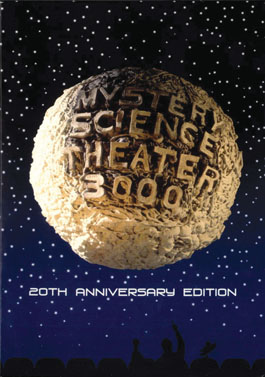 Mystery Science Theater 3000: 20th Anniversary Edition
Four discs; Shout! Factory; $59.95/$69.95
Reviewed by Michael S. Gant
Has it really been 20 years since Joel and the Bots started riffing in front of some cheesy movies? Hard to believe that youth is so fleeting, but take a look at the receding hairlines on Hodgson, Trace Beaulieu and Jim Mallon as seen in the three History of MST3K documentaries included in this set and contrast with the first-season footage—Joel had a shoulder-length shag. Only TV's Frank has keep his blond locks intact, although the forehead spit curl is missing in action. The four selections here give one taste of Joel and three of Mike Nelson in the hosting role. (I always thought Joel was funnier, but that's an angels-on-a-pinhead argument for fans.) First Spaceship on Venus (Season 2) is an East German space epic from 1960 that got redubbed for the American market. Joel, Crow and Tom Servo do a priceless Invention Exchange for "Junk Drawer Helper." From Season 7 comes Laserblast, a dreadful 1978 tale of a teenager who finds a superweapon discarded by subgenius-level stop-action aliens. This episode does feature a great takeoff on the last scene of 2001 starring Dr. Clayton Forrester as the aging astronaut pointing at a monolith, which is actually a VHS tape labeled "The Worst Movie Ever Made." For Werewolf (1996), from Season 9, Mike gets off a few zingers: noticing a shirtless character, he quips, "He's almost as hairy as Robin Williams." Future War (1997), a Season 10 offering, about a kickboxer, alien overlords and small, immobile dinosaurs, is pretty much beyond mocking: "Delay of movie penalty right about now." In short, not nearly the best of MST3K, which usually came in response to vintage '50s sci-fi and JD epics, like The Giant Gila Monster and Daddy-O (available in various collections). The three documentaries and a 30-minute clip of a reunion panel from Comics-Con International 2008 fill in a lot of background info: Joel for instance came up with the silhouettes idea from an Elton John album cover. Best of all are the very early clips showing Tom Servo, the Satellite of Love and Gypsy in their original, funkier incarnations. The more expensive limited-edition set comes in a tin box with cards and a collectible figurine of Crow.
Click Here to Talk About Movies at Metro's New Blog
Send a letter to the editor about this story.