11.12.08
home | metro silicon valley index | movies | current reviews | film review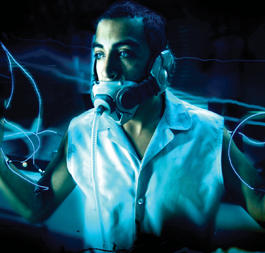 FEELING BLUE: Alex Rivera's 'Sleep Dealer,' a New Vision Award winner, shows at the Latino Film Festival.
Brave Combos
The Latino Film Festival travels around the area, from Redwood City to downtown San Jose
By Richard von Busack
IF IT'S LATINO, we've got it in San Jose. So it's only one more week until the 12th International Latino Film Festival moves up to the Camera Cinemas; then comes the grand opening and a Nov. 21 evening with pioneering Chicano filmmaker Gregory Nava (Mi Familia, et al.), in town for the 25th anniversary of his film El Norte. In the meantime, the fest swings in to Redwood City's Century 30, along with local screenings everywhere from MACLA to San Mateo. This year's highlights include Alex Rivera in person at the gala Noche Mexicana, held the evening of Nov. 13 at Redwood City's San Mateo County History Museum. Rivera just won the ILFF's New Vision Award for his film Sleep Dealer; it's a Mexican cyberpunque drama about a future of computerized braceros and locked-tight borders between the United States and points south. The next day, Nov. 14 at 6:30pm (and again on Nov. 23 at 7:45pm at Camera 12), Sleep Dealer screens at the Redwood City Century 20, followed at 9:15pm by Amor, Dolor y Viceversa, a sensual Mexican drama about a pair of lovers who meet in their dreams before they meet in real life. On Nov. 15 at 5pm in Redwood City: Cochochi, a drama of a pair of brothers, shot in the indigenous Raramuri language; this language is spoken by a nation of less than 100,000, living in the mountains near Mexico's Copper Canyon. Postales de Leningrado (7pm) concerns the fantasy lives of a pair of children in Venezuela in the 1960s, not so long after President Nixon got chased out of Caracas (just like he got chased out of San Jose, come to think of it). The end-of-the-world drama Tres Dias (9pm) unfolds in a small sun-baked Spanish town waiting for a giant meteor to arrive. Nov. 16's offerings in Redwood City are Lovesickness (5pm), a relay drama set in Puerto Rico, and Lucia Murat's Another Love Story (7:30pm): it's Romeo and Juliet enacted among the drug gangs of the Brazilian favelas. Some of the festival's documentaries will be shown in San Jose. On Nov. 12
at 6pm at MACLA, Bracero Stories follows the history of Mexican laborers who first started coming to the United States during World War II; It is billed with Uprooted, which follows the story of some of the many Colombians displaced from the coastal areas, who arrive in Bogotá looking for work and shelter. The Brazilian comedy Basic Sanitation: The Movie rounds out the first night (8:15pm) at MACLA. On Nov. 14 at 5pm, the documentary Kuyima examines a paradisiacal beachside place way in the middle of Baja; it's the little-known site of a UNESCO-honored series of cave and earth paintings created by mysterious Indians known only as "The Painters." At 6:30pm, there will be a reception and the screening of Against the Grain, subtitled "An Artist's Survival Guide to Peru," about a quartet of artists who haven't forgot their duty to critique their society.
This entirely English-subtitled festival includes free movies along the way; one is titled 4th of July, at the Martin Luther King Jr. Library (Nov. 13 at 6pm), all about the mysterious massacre of five clergymen by an Argentine death squad during the Dirty War. For those in the vicinity of the College of San Mateo, Nov. 12 (6pm) has Septiembress, about an annual song competition in the Spanish prisons. And there's more next week.

THE INTERNATIONAL LATINO FILM FESTIVAL runs through Nov. 23 at a variety of locations. See www.latinofilmfestival.org for details.
Click Here to Talk About Movies at Metro's New Blog
Send a letter to the editor about this story.