11.12.08
home | metro silicon valley index | movies | current reviews | film review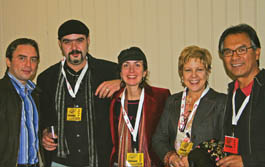 FILMMAKERS ROW: Poppy Jasper Film Festival co-founder Jay Jaso (far right) enjoyed the limelight with filmmaker Isabel Sanchez (third from left) and a contingent of participants from Spain at last year's festival.
Like a Rock
The Poppy Jasper Film Festival screens small miracles in Morgan Hill
By Richard von Busack
NAMED AFTER a semiprecious stone found only in the Morgan Hill area, the Poppy Jasper Film Festival annually offers short-attention-span cinema for the South County. The really brilliant short film can be perfect in a way that the feature-length film can almost never be; in a great short film, the urgency never flags. The longest offering at this year's Poppy Jasper Film Festival is the 38-minute invited film El Pasajero, in which a wealthy robbery victim in Venezuela turns the tables on his poor and aged gunman, a taxi driver. This year's festival runs Nov. 14–16 at various theaters in Morgan Hill.The six-minute short Bullet Proof Vest concerns the Bay Area's most dangerous city: gang-riddled, post-industrial Richmond. Stanford grad student May Lin Au Yong joined the tent city that was built by concerned residents of the Iron Triangle as a protest against the many homicides. When Bullet Proof Vest aired on PBS's P.O.V, Yong wrote: "As an exercise in disciplined filmmaking, we were only allowed to shoot 15 minutes of film, and that low 3-to-1 shooting ratio meant the film had to be very tightly constructed, ruling out a more observational approach." What she ended up with was an impressionist study of a fiercely dangerous neighborhood located a short BART ride from the wealth and prestige of San Francisco. Caring for Dying: The Art of Being Present is Michelle Peticolas' documentary about her own Sufi-influenced studies of helping people on the way out of this world. Having not seen it yet, I wonder if my favorite Rumi quote about loss figures in Peticolas' story: "The roses are gone. What do we do with the thorns?" Dawn Young's Beneath the Surface is about her son Wolf Vigo, two-time captain of the Olympic Water Polo team. Marta Renzi's Incident at Chekhov Creek is a 25-minute dance film that looks closer to Andy Goldsworthy than to Merce Cunningham; late fall swirls of leaves fly as the dancers express themselves on a hillside.
Last Call by Hayward's Rey Godoy focuses on the lingering question of guilt persisting in the wake of a Marine's death. Plainview is Scott T. Jones' docudrama about a female restaurant manager (Ryan Driscoll) who is required to order the strip search of a male employee after the cash register turns up light—and "the only thing stolen was their innocence" claims the poster. Despite the film's unusual true-story subject, and the scad of awards its won at national film festivals, based on the YouTube previews, Plainview looks like you might feel if 24 minutes of your life had also turned up pilfered, never to be reimbursed.
Special features at the fest include a two-hour free student showcase on Nov. 15 at 10am. Terry Windell, a longtime special effects animator for everyone from Quentin Tarantino's Band Apart to Star Trek Voyager turns up as Saturday night's Keystone speaker. The festival's offerings are like the weather in New England: if you don't like what you're seeing, just wait five minutes.

THE POPPY JASPER FILM FESTIVAL takes plays Nov. 14–16 at the Morgan Hill Community Playhouse and Cinelux Theatres. See www.poppyjasperfilmfest.org for details.
Click Here to Talk About Movies at Metro's New Blog
Send a letter to the editor about this story.