11.12.08
home | metro silicon valley index | movies | current reviews | film review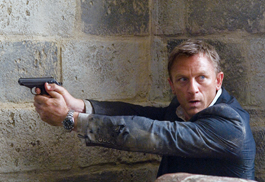 Photograph by Karen Ballard
RUNNING MAN: Daniel Craig's James Bond goes rogue in 'Quantum of Solace.'
Fight and Flight
The new James Bond could use a quantum of slowness to balance the breathless action
By Richard von Busack
JAMES BOND, who has saved the world a dozen-odd times, finds his most implacable foe in the form of Jason Bourne. The matching first syllables in both names and the hard "n" in the second name ought to prove what Ludlum fans always try to deny: that Bourne is trying to ride in on Bond's coat tales.
The Bourne films may be Lonely Planet to 007's Fodor, but the relentless cutting of Paul Greengrass' Bourne films have taken over in Quantum of Solace. The movie survives, somehow, despite the mad editing. At first, Quantum of Solace is Casino Royale II, then it gathers momentum toward some as-yet-untitled sequel, where 007 will stand before the cosmic evil of some superorganization. The gang is called "Quantum" here, if that's its real name; Quantum may be the latest project of something Unnamable, just as the word "Ellipsis" turned out to be a red herring in Casino Royale.
As the story begins, Bond escapes, after an ambush, to track down the gang that forced Vesper Lynd to her death. He goes rogue just like the other J.B., running one step ahead of his boss, since MI6 is seemingly riddled with agents of the Organization. And the CIA, including Felix Leiter (Jeffrey Wright), is in bed with the villains.
In Haiti, Bond meets a slightly scarred exotic, Camille (Olga Kurylenko), with a mission of her own; he then travels to Europe for the film's really outstanding scene at the titanic Festspielhaus in Bregenz, Austria. Bond helps himself to an unconscious man's tuxedo. The opera unfolds as he searches. Tonight: Tosca, a particularly grisly item "filled with horror, sadism, murder and suicide," says Ewen's New Encyclopedia of the Opera. Tosca is also relevant since the key to its plot is a pistol that fires blanks: a ruse Bond fell for once, in Montenegro.
Torture and surveillance are part of that opera, too; the latter is suggested by the opera's backdrop, a 100-foot-high unblinking human eye with blue iris. Director Marc Forster fills the screen with this eye, as Bond keeps watch on his watchers. This sequence is James Bond at his career-long most avant-garde. As with Batman, Bond is more attractive as detective than as warrior; maybe that's why this scene is so deliriously watchable. Moreover, this opera scene is very un-Bourne in its class.
Undue haste shows up in more than just the action scenes. Surely a mad-scientist speech should be lingered over like a fine cigar. Mathieu Amalric's Dominic Greene, the head villain, is the chair of something like the Nature Conservancy gone evil. He has the moist insinuation of a young Polanski as actor. (He was born in Polanski's Polish village, apparently.) But when Greene threatens his flunky—a South American dictator on the comeback trail—the moment goes by too fast. One fun part looks almost improvised: furious at Bond's refusal to die, Greene grabs a fire ax and charges, roaring, like a cat in a Warner Bros. cartoon.
Motifs aren't enough to draw people to a movie, but Quantum of Solace has one: M.C. Escher seems to be the uncredited production designer. Maybe this is a nod to the brutal fight in the casino staircase in the last Bond. Much of this film takes place in corridors and on stairs, right from the opening car chase at the rim of an Italian marble quarry, a giant's staircase. Bond races along the opera house's catwalks as attendees climb up from the bottom of the screen, and there's an upside-down fight in a clock tower, a sequence as beautifully designed as it is wretchedly edited. And when Bond blows up his first building—the first, by the logic of this series' reboot, anyway—the place flies apart in L-shaped pieces. It's like someone programmed a Tetris game to explode.
The main advantage of Quantum of Solace is Daniel Craig's strikingly ruthless Bond. Craig's masculinity and speed—he has the swiftness of an attack dog—is tested on the road, from a scrabbling fight on Siena's rooftops to a memorable aerial fight over Bolivian canyons. When the film's color is augmented, they seem to have dyed the lenses of Bond's sunglasses as black as digital black can get. Forster contrasts this emotional armoring with the vulnerability of Judi Dench's M., seen taking her makeup off with cold cream after the end of some 18-hour day.
But Forster doesn't stint on the trauma of Bond, whom we see shaken and stirred during the course of a six-martini flight across the Atlantic. You love to watch him run, but you don't especially want to be him this time around.
Onscreen are some of the usual opposites in a 007 film: the sea with the desert, sweet rich hotels with bad dark alleys. Forster, however, doesn't get that all-important opposition of speed and leisure. Even the dolce vita scenes have a squirrel's restlessness.
The overall bleakness of Quantum of Solace is earned, since the schemers are involved in a massive privatization scheme, inspired by a real-life grab in Bolivia. Ironically, one of the film's end-credit acknowledgements is to the Coca-Cola Company, which is in deep in such scheming via its interests in Dasani. Still, we can hope for more triumph, satisfaction and grand-scale paranoia in the next 007 film. Bond deserves it. As we saw last Tuesday, sometimes the good guys earn an unequivocal win.

QUANTUM OF SOLACE (PG-13; 106 min.), directed by Marc Forster, written by Paul Haggis, Neal Purvis and Robert Wade, photographed by Roberto Schaefer and starring Daniel Craig and Olga Kurylenko, opens Nov. 16.
Click Here to Talk About Movies at Metro's New Blog
Send a letter to the editor about this story.