11.12.08
home | metro silicon valley index | music & nightlife | band review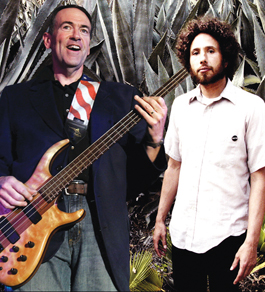 HUCKABEE AGAINST THE MACHINE:
'Obama, I won't do what you tell me!'
The New Rules
Hope for the musical landscape
By Gabe Meline
NOW THAT the election's over, I've got a foolproof way to save the recording industry, boost national morale and increase the overall quality of American music all in one fell swoop.
This idea is simple: If you're a musician who endorsed, donated to or rallied for McCain, you lose. You are no longer allowed to make music. Your label doesn't have to waste money on you anymore. No records, no concerts, and don't even try to start a sneaky YouTube channel under an assumed name. You're out, buster.
If you're one of the many musicians who backed Obama, congratulations! You get prime placement in record stores, on iTunes and on the radio waves. Ticket prices for your concerts are slashed in half to accommodate more fans, and everyone gets free beer! You're on TV, like, all the time, and you get federal money to drive across America and hang out with people coast to coast.
Think about it: Bruce Springsteen would play free shows in every state. No Age and the Roots would get booked on Hannity & Colmes. The Arcade Fire would headline at Saddleback Church. No one would have to listen to Toby Keith ever again!
Oh sure, it'll be a blow to country radio. Stations' playlists will shrink to a scant few Obama-endorsing country musicians like Tim McGraw, Faith Hill, Kris Kristofferson and Ralph Stanley. No more John Rich, one half of the duo Big & Rich, who stumped for McCain with his dumb song "Country First" and actually claimed that Johnny Cash would have supported McCain. His partner, Big Kenny, who swung toward Obama, gets to fire up ProTools and edit Rich's verses out. It's that easy!
Aaron Tippin now gets to sing "Drill Here, Drill Now" in the shower. Not on Huckabee. Know who Mike Huckabee gets to play bass for on his Fox News show? Rage Against the Machine, that's who.
How about Hank Williams Jr.'s "Family Tradition," which the singer famously mangled into a rant about Obama's "radical friends" and an endorsement of the "good-lookin' dish" of a vice presidential candidate? Lord, let the suffering end. The song gets pulled from every jukebox in the nation and replaced with Usher's "Follow Me."
Let's do another thing. Let's make it so McCain supporters play a key role in this plan. Make Hewlett-Packard mass-manufacture Bob Dylan's entire back catalog for free, and then have it sent via FedEx, no charge, to every Gretchen Wilson fan in America. Included in the deal: free Domino's Pizza, personally delivered by Arnold Schwarzenegger. Don't worry, folks—you don't have to tip him.
My Morning Jacket, Bright Eyes and the Decemberists all play on the White House lawn. Charlie Daniels, whose "The Devil Went Down to Georgia," will be retired forever from sports events, is forced to play fiddle for headliner Alicia Keys.
What of the Puerto Rican reggaeton star Daddy Yankee, who endorsed McCain at a Phoenix, Ariz., high school to a bunch of squealing teenagers? Sorry, bro. I know whatever money you were flowed to chump for the immigration vote must have been nice, but "Gasolina" is off the air. Oh, and your MySpace page—taken down forever.
Get those big-money backers in on the act, too. Have Forbes sponsor a tour with Santogold, Marnie Stern and Joanna Newsom. Make Levi Johnston work as their equipment roadie and Ashley Todd as their merch girl. All proceeds benefit the Humane Society and Planned Parenthood.
Jewel goes back to Alaska to sing "Who Will Save Your Soul" to a herd of moose. Five for Fighting frontman John Ondrasik drives a tour van for the National and Les Savy Fav. "Superman (It's Not Easy)" is never heard in any bank or doctor's office ever again, replaced by Common's "The Light."
Van Halen, the Foo Fighters, Jackson Browne and Heart all get extended recording contracts for demanding that McCain stop using their songs in his campaign. Dave Grohl sings "My Hero" at the inauguration. Heck, Kurt Cobain comes back from the dead to jam with Dave Grohl and Krist Novoselic at the inauguration. Jerry Garcia comes back to rejoin the Grateful Dead for the Goin' Down the Road Feelin' Totally Awesome Tour 2009.
A world where John Coltrane wins over ABBA. A world where Stevie Wonder wins over Lee Greenwood. A world where Kind of Blue gets played in the Oval Office. This is our new world. And by God, it rules.
Send a letter to the editor about this story.