11.14.07
home | metro silicon valley index | columns | silicon alleys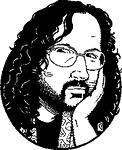 Silicon Alleys
More Treasures For the Hunting
By Gary Singh
LAST WEEK, I wrote about the "Treasures from the Archives Competition," inviting SJSU students and alumni to submit a description and explanation of a "treasure" item found in one of the university's four special collections on the fifth floor. Contestants are invited to pen a 2,000-word essay on why their find is interesting and fascinating, and to submit it to Reed magazine, the university's literary periodical, in hope that it will win publication in that magazine as well as a $50 prize. I raided the collections in the California Room as well as the Special Collections room next door for examples of crackpot curiosities that folks can write about.
The two collections remaining are the Ira F. Brilliant Center for Beethoven Studies and the Martha Heasley Cox Center for Steinbeck Studies, both of which contain stockpiles of treasure that anyone with a creative bone in his or her body could write about. This is a great opportunity for folks to hone their writing and research skills, and the organizers rightly framed the whole extravaganza as a treasure hunt, as that's exactly what it is.
Ludwig van Beethoven was an ill-tempered, impulsive, disheveled, unpredictable genius and lifelong bachelor who changed his physical address more than 50 times and was pretty much the first major composer to ply his trade without the support of aristocratic snoots and church bureaucrats. Despite all the depression, anxiety, stress, tantrums, diseases and isolation, Beethoven went down in history not only as the main root from which all composers of the Romantic era eventually branched out, but one of the most influential composers ever. The Beethoven Center features some truly unexpected items, including a household list handwritten by one of Beethoven's servants, providing an excellent look into how he communicated with folks after he had gone deaf. Pick your own treasure and start writing.
And then there's the Martha Heasley Cox Center for Steinbeck Studies, the last of the four special collections and yet another gold mine of unusual stuff. For example, of the five American hard-drinkers awarded the Nobel Prize for Literature, John Steinbeck was the only one who actually resided in Los Gatos. Hemmingway, F. Scott Fitzgerald, Faulkner and Sinclair Lewis never lived here. Steinbeck completed Of Mice and Men and wrote The Grapes of Wrath while living on Greenwood Lane in what's now Monte Sereno. Celebrities who showed up to get hammered at that house included Burgess Meredith and Charlie Chaplin.
But that isn't the point. SJSU's Center for Steinbeck Studies provides an endless supply of ephemera that would easily fuel a 2,000-word screed for this treasure hunt. The place contains artifacts from the actual Chong's Grocery Store, immortalized in Steinbeck's novel, Cannery Row, a narrative containing one of the best opening lines ever put to paper and one that completely summarizes the entire novel: "Cannery Row in Monterey in California is a poem, a stink, a grating noise, a quality of light, a tone, a habit, a nostalgia, a dream." Hey—if Steinbeck can roll an entire book into one sentence, then you can find a piece of history to stretch into 2,000 words. Go for it.
Both of these special collections contain stuff for the whole family, and like we pronounced last week, this treasure hunt is a great way—especially for kids—to learn what research is all about. It's not just for cantankerous old men hiding away amongst the shelves. There exist plenty of rocking finds for anyone to concoct their own 2,000 words' worth of expression and there exists beauty in even the most wacko, zonked-out pieces of ephemera, and the Special Collections should be applauded for giving the populace of Silicon Valley a chance to compete in this one-of-a-kind treasure hunt.
Contact Gary Singh or send a letter to the editor about this story.