11.14.07
home | metro silicon valley index | movies | current reviews | film review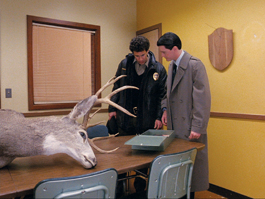 The Buck Stops Here: Sheriff Harry S. Truman and Agent Cooper marvel at yet another 'Twin Peaks' in-joke.
Peak Experience
A new DVD set brings together all of David Lynch's 'Twin Peaks' TV epic in one package
By Michael S. Gant
A COUPLE MONTHS ago, while trying to bring order to my scattered video-tape collection, I assembled a full run of David Lynch and Mark Frost's Twin Peaks. First came the six-volume VHS box from 1997. Since that set excluded the crucial 90-minute pilot, I supplemented it with the pilot videotaped from the Bravo Network rebroadcasts and a commercial tape (bought on eBay late one night) of the variant European pilot. And having done all that archival work, I had to sit down and rewatch the whole thing from the beginning. The experience was both revelatory and a little disappointing.
Now, it turns out I should have waited. At long last, following separate DVD releases of seasons one and two, Paramount Home Video has issued Twin Peaks—The Definitive Gold Box Edition. This 10-disc whopper brings together both pilots, all 29 broadcast episodes, the Log Lady introductions that Bravo added, and a miscellany of extras. The transfer is superb, with enhanced 5.1 surround-sound audio track and rich, burnished colors—much superior to the VHS tapes. For starters, Kyle MacLachlan's hair shines with a preternatural inky glossiness.
For a long time, I argued that Twin Peaks, which first aired in April 1990, was the greatest television show ever made. Then I saw The Sopranos, Deadwood and The Wire. Now I prefer to think of Twin Peaks as the best commercial-network program ever.
Despite the need to edit in small narrative chunks to accommodate the ads (you can feel them, like phantom growths, affecting the rhythm), Lynch fashioned a fully realized, self-contained universe. In a small northwestern logging town, a population of eccentrics, some amiable, some sinister, is united by a seemingly unsolvable mystery: Who killed alluring Laura Palma, wrapped her in plastic and dumped her body in the lake?
As Lynch himself admits in A Slice of Lynch, a short film included in the box set, this "sacred mystery" wasn't meant to be solved. "The little goose is laying golden eggs; why would you kill it?" Lynch asks. Unfortunately, pressure from ABC dictated that Laura's killer be unmasked sooner rather than never.
Afterward, the show slipped into a terminal jokiness—Nadine performing superhuman feats of strength, Windom Earle tormenting a paralyzed Leo Johnson, Ben Horne dressing up as Gen. Lee—from which it could not recover. Twin Peaks was never unwatchable, but it had seemingly plunged over that waterfall in the opening credits. It took the much darker movie, Twin Peaks: Fire Walk With Me, to reconnect with the primal force of the tale.
At the show's best, however, from the pilot to about halfway through the second season, Lynch managed a very difficult juggling act, somehow entertaining us with dashes of absurdist humor while never excusing us from the wrenching pain that Laura's death sent coursing through the collective unconscious of Twin Peaks.
What we remember from the show are too often the punch lines—the "damn fine cup of coffee," Deputy Andy's cowlick, the clue-spouting giant, the dancing midget in the Red Room—but Lynch also knew how to burrow deeply into grief and violence. Is there any sight more wrenching than Ray Wise (never better) as Leland Palmer, his hair suddenly gone white with despair, singing a deranged rendition of "Get Happy" at a tortured family dinner in Laura's honor? The murder of Maddy remains the most disturbing, extended act of brutality I think I've seen on TV, and that includes HBO's finest.
Immersing myself again in Twin Peaks, I was reminded that when Lynch is in the mood, he knows how to step back and give his actors room to work. After Nadine has attempted suicide, her husband, Big Ed (Everett McGill, again another of many actors who gave their career-best performances in Twin Peaks), delivers an unexpectedly heartfelt reminiscence about his life with the woman who was never his true love. "Nadine was so happy. And you know, by golly, I shot out Nadine's eye on that honeymoon. ... She never cried, she never blamed me, she never hated me for it."
The speech is both genuinely touching and unexpectedly funny—we always wanted to know why Nadine wears an eye patch. A reaction shot of Miguel Ferrer's Agent Rosenfield sarcastically dabbing his eye demonstrates how precisely Lynch could bracket his emotional effects.
In a similar vein, from the same episode (a double episode that start the second season), Major Briggs (Don S. Davis, who made a career reprising this role after a fashion) sits down his wayward son, Bobby (Dana Ashbrook, who has languished ever after), and delivers, with his particular grasp of sonorous platitudes, a vision of "My son, living a life of deep harmony and joy." The speech, coming out of nowhere, poleaxes Bobby, who is reduced to tears of, if not genuine connection with his father, at least confusion.
Repeat viewings also prove how dependent the show is on Angelo Badalamenti's music. His finger-snapping, spacey groove clicks instantly into place, enveloping the action in an otherworldly sonic cocoon. A pervasive sense of obsessive longing underlines the action. It is the closest any TV show has come to Bernard Hermann's score for Vertigo.
The extras in the new set are tantalizing but not essential. In addition to the Lynch short, there are deleted scenes; an amusing Saturday Night Live skit enlivened by Victoria Jackson's very funny escalation of Audrey Horne's cherry-stem-tying routine; an interactive map of Twin Peaks that isn't worth bothering with; Julee Cruise's video of "Falling"; four "making of" shorts; some Japanese coffee commercials Lynch made with the cast members; a doc about the annual fan fests; and picture galleries (including a set of physical postcards).
The deleted scenes number all of four, which is frustrating; apparently, the unused material from the show was long ago destroyed. In a short sequence, Lucy and Andy visit the Get a Square Deli, where Lucy orders extra jelly donuts for Agent Cooper while Andy decides on a "plum frappe turnover." Better is the scene in which the rarely seen Mrs. Benjamin Horne blames Audrey for damaging her brother, Johnny, because she pushed him down the stairs years ago on Thanksgiving morning.
The documentary about the diehard fans who trek to the annual Twin Peaks festival in Washington is as disturbing as Trekkies. I say this as someone who made a cult of the show when it came out, who bought the trading cards, the coffee cup and Laura Palmer's Diary. The sight of these earnest fans answering trivia costumes, dressing up as their favorite characters, listening raptly to second-tier TP "celebrities" and replicating Agent Cooper's rock-throwing technique is more than a bit depressing. No show is worth that. One last word of advice: The European pilot, which was designed as a self-contained movie, contains a quickie conclusion. Don't watch it until you've seen all the rest of the show.
That's all, Diane.

TWIN PEAKS: THE DEFINITIVE GOLD BOX EDITION, Paramount Home Video; $99.99.
Send a letter to the editor about this story.