11.14.07
home | metro silicon valley index | the arts | books | review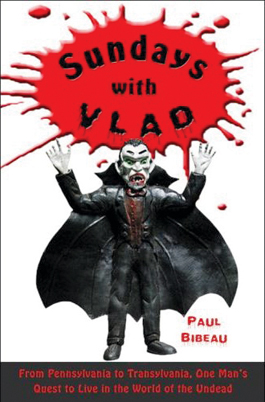 Sundays With Vlad
Review by Richard von Busak
"I care nothing for sunlight and the glittering fountains, upon which youth places such importance." That's the mad Klaus Kinski's Dracula in Herzog's Nosferatu. I, too, long piteously for Transylvania while being stuck in California. For his book Sundays With Vlad, Paul Bibeau actually traveled to the real-life Dracula Vlad Tepes' stomping grounds (they're in Wallachia, actually), so he saved me time, money and probably a trip to divorce court if I'd gone with the wife. He returned with amiably pejorative accounts of the commercial and tourist trade in Draculania. Bibeau's starting point is a set of observations on Romania's crap towns and their world-famous packs of wild dogs. The joke is not on the denizens of Europe's answer to the Ozarks—who couldn't even read Bram Stoker's blood libel on their nation in Romanian until 1992. Rather, it is on the people who succumbed to myth—sometimes literally succumbed, as in the case of the victim of "the vampire of Paris" Nico Claux (a convicted murderer with a MySpace page). As part of his vampiric research, the first-time author meets "sanguinarians" (those who drink blood for sexual or other motives), live-action role players, the vampire candidate for governor of Minnesota and the creator of Count Chocula. And eventually he leads us to a haunted land whose name is synonymous with terror: New Jersey, site of the Dracula's Castle "darkride" on the Wildwood boardwalk. Bibeau writes with great gusto, humanity and urbane amusement about an unkillable myth whose real-life historical roots go about as deep as Birnam Wood.
(By Paul Bibeau; Three Rivers; 294 pages; $13.95 paper)
Send a letter to the editor about this story.