11.14.07
home | metro silicon valley index | music & nightlife | band review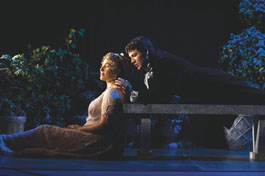 GOETHE'S GARDEN: Cybele Gouverneur and Isaac Hurtado fall for each other in Opera San Josť's production of 'Werther.'
Classical Moves
By Michael S. Gant
Opera San Josť More than 200 years ago, the moony young men who went on to become the Romantics treasured their dogeared copies of Goethe's The Sorrows of Young Werther, the tragic tale of a hypersensitive artist who falls in love with a woman named Lotte, who is—darn the luck—engaged to another man. Sounds like perfect material for an opera, and French composer Jules Massenet did just that in Werther. (Best to forget Thackeray's jape: "Werther had a love for Charlotte/ Such as words could never utter. /Would you know how first he met her?/ She was cutting bread-and-butter." This Opera San Josť productions features Isaac Hurtado and Christopher Bengochea trading places in the title role. Nov. 17–18, 20, 23, 25, 29 and Dec. 1–2 at 8pm (Sundays at 3pm); California Theatre, 345 S. First St., San Jose; $66–$88; 408.437.4455.
Palo Alto Philharmonic As part of its chamber-music program, the Palo Alto Philharmonic presents an evening of string quartets by Dvorak, Mozart and Welshman Karl Jenkins, plus a piece by Vaughan Williams for wind, string and orchestra. And just to be sure that you're paying attention, the group has also scheduled Piazzolla's Music for Accordion and Piano. Saturday (Nov. 17) at 8pm; Palo Alto Art Center Auditorium, 1313 Newell Road, Palo Alto; $8–$17; www.paphil.org.
Redwood Symphony The centerpiece of the program is Stravinsky's magnificent Symphony of Psalms, performed with vocal help from the Peninsula Cantare and the Skyline Concert Choir. The symphony will also perform Elgar and Shostakovich pieces, plus Eric Ewazen's A Western Fanfare, featuring guest artists the Brassworks Quintet. Sunday (Nov. 18) at 3pm; CaŮada College Main Theatre, 4200 Farm Hill Blvd., Redwood City; $10–$25; 650.366.6872.
El Camino Youth Symphony Concerto Competition champs Deborah Ahan (violin) and Connor Kim (cello) appear for the symphony's Sinfonietta Orchestra concert. The selections range from Haydn's Symphony no. 104 to Bruch's Violin Concerto in G Minor and Saint-SaŽn's Cello Concerto no. 1. Dr. Camilla Kolchinsky conducts. Saturday (Nov. 17) at 7:30pm; Cubberley Theatre, 4000 Middlefield Road, Palo Alto; $5/$10; 650.213.7111.
Steinway Society The piano boosters of the Bay Area present Austrian-born star keyboardist Anton Kuerti, whose recorded oeuvre encompasses the complete concertos and sonatas of Beethoven and the sonatas of Schubert. He will perform Hayden's Piano Sonata no. 38, Schumann's Fantasie in C Major, Beethoven's Piano Sonata no. 6 and Scherzo from Sonata no. 1, Chopin's Scherzo No. 2 and Carl Czerny's Polonaise-Fantasie. Sunday (Nov. 18) at 7pm; Le Petit Trianon, 72 N. Fifth St., San Jose; $20–$45; 408.286.2600, ext. 23.
New Century Chamber Margaret Batjer of the Los Angeles Chamber Orchestra travels north to serve at the guest concertmaster for the New Century Chamber Orchestra. Batjer will lead the group in works by Bach (J.S. and son C.P.E.), Handel, Vivaldi and Francesco Germiniani, a Baroque composer and violinist who studied with Scarlatti and Corelli. The program winds up to a big conclusion of Haydn's Symphony no. 8 (Le soir). Friday (Nov. 16) at 8pm; St. Mark's Episcopal Church, 600 Colorado Ave., Palo Alto; $28–$42; 415.357.1111.
Send a letter to the editor about this story.