11.14.07
home | metro silicon valley index | movies | current reviews | film review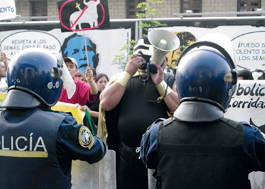 MASKED JUSTICE: Lucha libre wrestlers become activists in 'Super Amigos,' showing Nov. 14.
Latino Looks
International Latino Film Festival delivers two weeks of eclectic viewing
By Richard von Busack
THE SECOND WEEK of the International Latino Film Festival takes place all over the South Bay; some of the highlights are parsed here. On Nov. 14, 1:30pm (and again at 7pm at Skyline College), free, at College of San Mateo: Super Amigos, a documentary about lucha libre wrestlers working for social justice in Mexico. Nov. 16, 6:15pm, at Century 20, Redwood City: The Year My Parents Went on Vacation, a film by Cao Hamburger about how a child coped when Brazil declared open season on leftists in 1970. It is followed at 8:30pm by El Violin—in Guerrero in the 1970s, an elderly violin player isn't what he seems. Nov. 17, 5:30pm, at Century 20: A Portrait of Diego: The Revolutionary Gaze, the recovery of an unfinished documentary made by pioneering Mexican cinematographer Gabriel Figueroa when Diego Rivera was alive; Rivera's grandson Diego Lopez Rivera and Gabriel Figueroa Flores, the cinematographer's son, recover the lost footage. Followed at 8pm by Adrift in Manhattan, in which Heather Graham plays an optometrist grieving for her dead baby, and Victor Rasuk (Raising Victor Vargas) plays a photographer who awakens something in her. And that R-rated awakening was about all our nation's flesh-loving critics could talk about when this film appeared at Sundance 2007. Listen: If you like seeing Heather Graham with her clothes off, don't make a big fuss about it; it's only going to make her self-conscious! Also starring Dominic "Uncle Junior" Chianese as an artist going blind.
Nov. 18, 2pm, at Century 20: Emma's Bra, Director Maryse Sistach's coming-of-ager concerns Emma (the widely grinning Sofia Espinosa), who wants to make that great leap into womanhood in Mexico 1962; fortunately, she meets little resistance from her non-churchgoing, affluent parents. Sistach stays focused on everybody's favorite glands, from Marilyn Monroe's free-range boobies to the looped pink ribbons on the closing title cards. Plentiful Hanna-Barbera sound effects are dubbed in to make it all more cartoonish, including the old "honk the gazonga" gag. It is followed at 4:15pm by La Gran Final (a.k.a. The Great Match), a 2006 feature film about a Mongolian, a Saharan African and an Amazonian heading off to the 2002 World Cup.
MACLA in downtown San Jose hosts its own set of screenings. Nov. 17 at 6pm: 638 Ways to Kill Castro. No matter what you think of the old cabron, you have to admire someone who is truly unkillable. Dollan Cannell's documentary—banned in Cuba—describes the literally 638 times the CIA tried to snuff Fidel. See your tax dollars at work! The Wiley Coyotean methods shown include exploding cigars and Ian Fleming's martini-fueled scheme to defoliate Fidel's magnificent beard. At 8pm: Frekuensia Kolombiana, a profile of the noted Colombian's hip-hop band. Nov. 18 at 6pm: Camilo: The Long Road to Disobedience. Nica-born Camilo Mejia, disgusted by the U.S. Army's treatment of Iraqi civilians, refused to return to that country and spent a year in the stockade for desertion. At 8:15pm: Eréndira Ikikunari (a.k.a. Erendira the Indomitable), a 2007 feature film about the Purepecha woman who stood up to the Conquistadors—what Apocalypto could have been.

THE INTERNATIONAL LATINO FILM FESTIVAL runs through Nov. 18 at various locations; see www.latinofilmfestival.org for schedule details.
Send a letter to the editor about this story.