11.14.07
home | metro silicon valley index | movies | current reviews | film review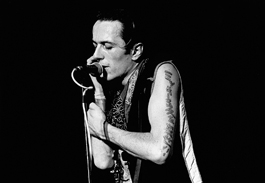 ROCKING THE CASBAH : Joe Strummer in full performance mode.
The Right Profile
Julien Temple examines the life of the Joe Strummer, before, during and after the Clash.
By Richard von Busack
CALIFORNIA FANS of English punk rock had a hugely distorted vision of the movement. What seemed to us like an egalitarian, universal, folky form of pop turned out to be rooted in fierce ambition, inter-neighborhood squabbles and an almost military dress code. Joe Strummer: The Future Is Unwritten shows how one man and one band transcended those limits. In this documentary, the campfire is director Julien Temple's intelligent symbol for what we all hoped punk was: an alternative to the rock-god experience, a comfort to the poor and rootless. Temple films various groups of people, movie stars and broken-down musicians alike at various fires: one on the palisades above the Hudson River, one on the side of Mulholland Drive and one on the banks of the Thames; he intercuts footage of Strummer's band the Clash during the course of its career.The young John Mellor (Strummer's birth name) was the son of a foreign-office diplomat. Before he was 6, he had lived in Iran, Egypt, Africa and Mexico. In a British boys' school—illustrated here by snatched moments from Lindsay Anderson's If ... —the young Mellor learned how the British class system worked. He got out and became an art student. He seems to have wanted to be the next R. Crumb. Changing his name to Woody (in honor of Guthrie), Mellor arrived in London at the end of the hippie era. He changed his name again and formed a popular band called the 101ers. At that point, one of those sinister impresarios who work behind the scenes in English rock discovered him. "Meeting Bernie Rhodes was the best piece of luck I ever had," says Strummer in an interview tape. Rhodes introduced Strummer to a new set of musicians, and Strummer cut loose his old friends and band members.It was a firing line that continued as the Clash rose during its 10-year lifespan; Temple intercuts to a cartoon shooting gallery, with band members as sitting ducks. The extraordinary achievements of Sandinista! and London Calling were shadowed by the personal woes of any band, not to mention Strummer's own misery when he heard that U.S. troops were painting "Rock the Casbah" on the noses of their bombs. The more success, the less feeling of connection with the audience he felt. Strummer wandered through Europe and America. Eventually, he started up in his father's trade of diplomacy: DJing music to 40 million listeners on the BBC World Service during the last four years of his life. (Strummer died in 2002.)The director had been filming Strummer since 1976 and gently but firmly underscores the chaos of Strummer's personal life. Wisely, Temple doesn't consider that matter as interesting as Strummer's music. This invigorating film demonstrates Strummer's cordiality, his mission to snap mind-forged manacles around the world. I saw the man only once, near the end, at Shoreline Amphitheater at the Hootenanny show. I had to make an agonizing choice between watching him and watching X, which was playing at exactly the same time. I could look over my shoulder anyway and see Strummer's pleasure in performing a scad of old Clash songs for a couple hundred people. At that moment, he was everything I always hoped punk rock would be.

JOE STRUMMER: THE FUTURE IS UNWRITTEN (Unrated; 124 min.), a documentary by Julien Temple, opens Nov. 16 at Camera 12 in San Jose.
Send a letter to the editor about this story.