November 15-21, 2006
home | metro silicon valley index | columns | silicon alleys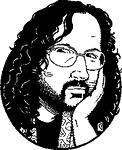 Silicon Alleys
The Name Game
By Gary Singh
I WAS staying with a friend in Heidelberg, Germany, and we split on a train to Berlin, where we crashed on the floor of a friend's flat. It was New Year's Eve, the end of 1996, and the worst winter Germany had seen in a while. Looking out the window from the train, all you saw was white. Somewhere during the course of that five-hour train ride and the celebratory events that night, I lost my passport.
We waited until we got back to Heidelberg to figure out how to deal with this mess and the sequence of events was downright legendary. At least now I can say that. The nearest American Consulate was a one-hour train ride away in Frankfurt, and I had to make the trip twice in order to get this predicament taken care of. I showed them a photocopy of the passport, but it didn't work. You see, Gary is not the name I was born with. My passport at the time had my given first name, Gurdial, which I've never once gone by. But it's on my birth certificate and the passport I then had, which had been renewed from the passport my parents got for me when I was 3 years old. All my other identification says Gary, and no one's ever known me by anything other than that name. To make a long story short, the guy at the American Consulate in Frankfurt told me that they wouldn't issue me a replacement passport because I had no other ID that said Gurdial Singh.
So there I was, yelling at the guy behind the window, saying stuff like, "Look, you don't want me to stay in this country, trust me!" All this while many other American families sat on chairs and the floor, bored from having been there for three hours waiting to get their own predicaments taken care of.
I eventually had to call my mom, who had saved my original passport from when I was a kid, and have her send it via international overnight mail. That solved the problem. Don't make fun of your parents for saving tidbits from your childhood. It just might help someday.
So I went to Frankfurt again the next day and got the replacement passport. But for 24 hours, I was a man with no country, no identity. In a strange sense, it was the closest I had ever felt to being truly free.
I'm only now fondly recalling that farce because a similar calamity happened last week with this exact same passport. You see, these days many countries are invoking regulations that require a tourist's passport to be valid for at least three months after the tourist completes his or her visit. My passport—that same one I acquired in Germany 10 years ago on that trip—expires in January of next year, too soon after a trip that I'll be on as you read this. Which meant two train rides to the San Francisco Passport Agency on two straight days in a row last week, bizarrely recalling those two trips from Heidelberg to Frankfurt 10 years ago. Why there isn't a passport agency in San Jose, I guess I'll never know. Since every politician in this town loves to play the numbers game, I'll complain that Norwalk, Connecticut—the 221st largest city in the United States—has a passport office and San Jose doesn't. Go figure.
One can never plan on accomplishing anything at the passport office in San Francisco without having to set aside at least two hours, and I made the naïve mistake of assuming that a 10:30 "appointment" meant that I could show up at 10:30, get my business taken care of, and then go right back home. Not so. Just like that crazed afternoon at the American Consulate in Frankfurt, there were an overwhelming number of screaming babies and kids throwing toy cars across the floor, and I had absolutely nothing to do while sitting there for 90 minutes. When I finally got to the window, I paid up, and then I had to come back the next day to pick up the passport—just like in Frankfurt. Some things never change.
Contact Gary Singh or send a letter to the editor about this story.