November 15-21, 2006
home | metro silicon valley index | the arts | books | review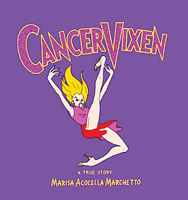 Cancer Vixen
(By Marisa Acocella Marchetto; Knopf; 222 pages; $22 cloth)

This proud "fashionista's" graphic novel about her bout with the big C doesn't have the punch of Harvey Pekar and Joyce Brabner's ground-breaking Our Cancer Year. But it uses the same methods—such as linking the Sept. 11 attack to her own body's attack on her, even as Pekar cross-cut his own lymphoma case with the Middle East crisis of 1991. More intensely depicted than Al Qaeda's attack is the author's struggle against the terrorists in her own life: predatory fashion models hitting on her semifamous fiance. Maybe it's just evidence of what strides medicine has made in a decade and a half that Marchetto's lumpedectomy isn't nearly as much a horror story as Pekar's ordeal. This lady fighting for her life is surrounded by tough allies, including her pushy but loyal "(s)mother," a militia of gal-pals and spiritual advisers who are experts in the kabalah (oy gevalt). Radiation therapy isn't enough to quell Marchetto's urge to accessorize. The drawings are cute and sassy, as befitting a strip that ran in Glamour, but the surface is every bit as glossy as the text of that mag.
Review by Richard von Busack
Send a letter to the editor about this story.