November 15-21, 2006
home | metro silicon valley index | the arts | books | review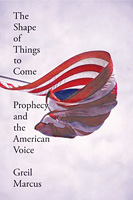 The Shape of Things to Come: Prophecy and the American Voice
(By Greil Marcus; Farrar, Straus and Giroux; 320 pages; $25 cloth)

In a dizzying display of critical aerobatics, Greil Marcus (Lipstick Traces, Mystery Train) tracks a tangled history of America based on the voices, the songs, the movies, the books of the country's mad prophets and cranks. From the beginning, Marcus posits, the nation was founded on a sense of exceptionalism, a promise of freedom and self-invention so grand that betrayal of the ideal was built into the American "covenant." And from John Winthrop's Puritan settlement through Abraham Lincoln's Second Inaugural Address all the way to the novels of Philip Roth and the songs of Pere Ubu, prophets have been warning us of our self-inflicted failings: "The country charges its citizens with the mission to create themselves, just as the republic was created—but if each American carries the republic within himself or herself, then each American can become a lost republic." Marcus' overall thesis can be hard to follow, and he revels in sentences that flow like a river raft in the rapids—if you stop to parse, you're lost. But no one can dissect modern culture like Marcus, and his extended analysis on Lost Highway, which he compares to Edgar Ulmer's Detour, sets a new standard for Lynch studies.
Review by Michael S. Gant
Send a letter to the editor about this story.