November 15-21, 2006
home | metro silicon valley index | movies | current reviews | film festival preview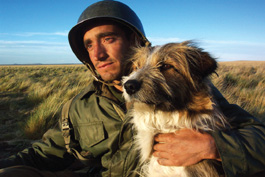 Photograph by Jerome Prebois
Dog of War: War is hell on man and beast in 'My Best Enemy.'
Latino Reels
The International Latino Film Festival keeps spooling through the weekend
By Richard von Busack
THE MOVABLE festival touches down in three local venues: Nov. 16 is the Inaugural Gala at Redwood City's newly refurbished Old County Building, and Nov. 19 wraps things up with a Fin de Fiesta party at Consuelo's Mexican Bistro in Santana Row, co-sponsored by the Consulate General of Mexico in San Jose. Some of the highlights follow.
State of Fear (2005). Pamela Yates' documentary follows 35 years of uprisings in Peru, including the formation of the Shining Path, the government crackdown and the reign of terror that followed—and, finally, the epic kleptocracy of the Fujimori government. (Plays Nov. 15 at 6pm in San Jose at Dr. Martin Luther King Jr. Library.)
Un Franco, 14 pesetas (2006). In Switzerland, Spanish immigrants escape the Franco regime and the economic chaos he supervised. (Plays Nov. 18 at 6:30pm in San Jose at CinéArts, Santana Row, and Nov. 17 at 8:30pm in Redwood City at Century 20.)
Mi Mejor Enemigo (My Best Enemy) (2005). The author Borges once likened the Falklands War to "two bald men fighting over a comb." The far more obscure—and perhaps even more pointless—prelude to that war was a border incident between Chile and Argentina in the Beagle Channel in 1978. In this history of a campaign that failed, five Chilean soldiers and a squad leader—pumped to the gills with patriotic rhetoric—are sent from the north into a featureless, windswept pampas in Patagonia to guard the border—or where the border would be, if there were something to mark it. Water is low, and first the compass, and then the radio breaks. And then, a squad of Argentinean soldiers arrives, and digs in about 100 yards away. Maybe good borders make good neighbors, but the folly of this conflict becomes apparent to both sides. The soldiers do what every officer fears: they fraternize, trading tea for cigarettes. My Best Enemy's landscape is very much like Terrence Malick's plains in Days of Heaven, and there's an edge of Malick's own transcendentalism in the way Bowen pauses to admire the starkness and clarity of this remote region of the earth. Still, there's something rougher in Bowen that gives teeth to this antiwar parable. (Plays Nov. 19 at 4pm in San Jose at CinéArts, Santana Row, and Nov. 18 at 7:30pm in Redwood City at Century 20.)

The International Latino Film Festival plays Nov. 16-19 in various locations. See www.latinofilmfestival.org for details.
Send a letter to the editor about this story.