November 15-21, 2006
home | metro silicon valley index | music & nightlife | review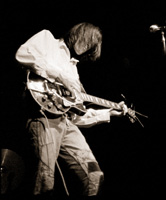 Photograph by Joel Bernstein
Forever young: Neil Young, circa 1970, brings back his Crazy Horse days on 'Live at Fillmore East' album.
Fall Backward
New music releases reminisce before the spring forward
By David Sason
JUST AS IT brings sugar withdrawal and voting disputes, November means a slew of new music releases to get a jump on stocking space. This fall, Bridge School Benefit founder Neil Young pauses his usual prolificacy with Live at the Fillmore East, combining his legendary 1970 shows with the original Crazy Horse. His best live release yet boasts a blistering 16-minute rendition of "Cowgirl in the Sand," featuring the dueling guitars of Danny Whitten and Young, whose corrosive, freeform soloing was decades ahead of its time. The six-song album is an effective makeshift tribute to Whitten, who overdosed in '72, taking with him some formidable harmonizing that rivals Young's supergroup CSNY.
PJ Harvey's live Peel Sessions 1991-2004 repays the late BBC DJ John Peel, whose unmatched musical acumen championed the then-unknown's first single. Currently making her next album, the British blues-mutating hellion—who became a feminist icon despite her vocal apathy toward the movement—effortlessly reinvents the career retrospective, while showing off her guitar skills and astounding vocal range on the Willie Dixon-penned "Wang Dang Doodle." Another highlight is a poignant "You Come Through" from a tribute concert for Peel, whose universal mourning suggested rock radio is pretty much bland on both sides of the Atlantic.
Jeff Tweedy's new DVD, Sunken Treasure, chronicles a short West Coast theater trek that included two nights at the Fillmore. The Wilco frontman channels Dylan with acoustic guitar, harmonica and the occasional prolonged refrain. This stripped-down exploration of Tweedy's catalog—from seminal alt-country band Uncle Tupelo to side project Loose Fur—spotlights the hung-over troubadour lyrics and infectious melodies beneath the spacey static of recent albums. Treasure includes is a surprisingly kinetic version of the synthesized, drum- and piano-driven "Shot in the Arm," whipping an Oregon crowd into a euphoric sing-along despite admonishment from the ego that's sent more bandmates packing than Destiny's Child. Thankfully, an accompanying 17-song download lets you applaud as loud as you'd like.
In a more traditional move, those kings of electro-rock and repackaging, Depeche Mode, give us The Best of Volume 1, yet another hits package released mere weeks after a live release and three more album reissues. But with minimal filler, this career-spanning single-disc collection is the group's best yet, despite the curious exclusion of "Blasphemous Rumors." Also including a halfway-decent new track ("Martyr"), it truly consists of "music for the masses," assuaging fans who patiently mined for gems at the Mode's recent Shoreline and HP shows.
Supremely gifted indie poster-boy Conor Oberst also cleans house with Noise Floor, a 16-song collection of rare tracks released under his moniker Bright Eyes. Along with a plethora of Oberst's respectable basement recordings, the mostly good mixed bag will please those who loved either the majestic folk of 2005's I'm Wide Awake, It's Morning and the synthesizer fusion of Digital Ash in a Digital Urn. A glaring omission is his scathing protest song "When the President Talks to God," a free download that would've provided perfect background music for the left's congressional victory.
Send a letter to the editor about this story.