November 15-21, 2006
home | metro silicon valley index | the arts | stage | preview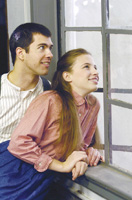 Photograph by Joyce Goldschmid
Small-town siblings: George (Thom Gorrebeeck) and Rebecca (Lauren Meyer) look to the future in 'Our Town.'
Getting Out of Town
Thornton's famed play is not exactly a walk on the Wilder side
By Marianne Messina
THORNTON WILDER'S three-act play Our Town lulls us with the ordinary in an attempt to awaken us to the extraordinary. And maybe it worked once upon a time. But someone, in the almost 70 years since this play was written, should mercifully have lost about half of the first two acts. In Act 1, the narrating "Stage Manager" introduces the townsfolk of Grover's Corners. And in this Palo Alto Players production, Fred Sharkey makes the introductions (with ironic commentary)—sort of a white-haired Mark Twain doing Mr. Rogers' Neighborhood. The narrating stage manager also offers cheery little flash-forwards about how and when each person will die. Still, this hint that happy hollow may end surreally doesn't keep the play from being a major sleeper.
Director Amy Himes, with scenic designer Kuo-Hao Lo, has maintained the sparse, colorless set this Pulitzer Prize-winning play calls for—which feels like depression. Opposed like book ends, two black wooden staircases suggest the second stories of identical houses, side by side. Solid, nondescript wooden tables capture the homey yet utilitarian kitchens of these homes in 1903 rural New Hampshire. On this normal small-town day, Mrs. Webb (Leslie Newport) and Mrs. Gibbs (Patricia Tyler) cook breakfast (in crisp, clear pantomime) and greet the milkman.
The second act focuses on the wedding of Emily Webb (a perky Jessica Lynn Carroll) and George Gibbs (a wide-eyed Thom Gorrebeeck). The young actors bring some needed energy to the fears and proddings (the narrator claims they're too young) that lead the two high school graduates to reject other possibilities and remain part of the fold through the marriage ritual. There's a glimmer of humor and depth in the way Mrs. Gibbs knowingly slides a chair under her son George as he starts to fall backward putting on his rubbers. This brief but concerted action by Tyler and Gorrebeeck makes poignant the separation of the boy from the mother who has "caught him when he fell" all his life. But mostly, tepid characters, unbearably predictable, add no accenting flavors to Wilder's sense of redundance and ritual.
Therefore, Act 3 comes as welcome relief. The town's dead sit stone still in rows of folding chairs between audience and action. Eyes closed, draped in black, they've been "weaned away from the Earth" and are supposedly "looking forward" as the newly arrived Emily decides to go back and relive one day. Carroll does a splendid job with the climactic moment, "Look at me, Momma, as though you really saw me!" Switching from her low-range zombie voice to the high childlike voice, she puts the two worlds, ghostly and Earthly, into fascinating comparison and brings to life Wilder's point: that we living beings don't really see each other much.
Still, when the narrator says, "Once in a thousand times it's interesting," it's hard not to think he's referring to the endless incarnations of this play. It falls to the sound (Ian Hargrave) and light (Jim Gross) team of this production to carry most of the appreciation for life that Wilder's words seem to recommend—an iridescent moon in a deep purple sky; a glowing Morning Star; the music of crickets; the meditative liturgical music sometimes playing in the background. Ironically, these brief, nonhuman elements open up enough space to experience deeply, as Wilder might have intended.
Our Town, a Palo Alto Players production, plays Wednesday-Saturday at 8pm and Sunday at 2pm through Nov. 19 at the Lucie Stern Theater, 1305 Middlefield Road, Palo Alto. Tickets are $18-$28. (650.329.0891)
Send a letter to the editor about this story.