November 16-22, 2005
home | metro silicon valley index | columns | silicon alleys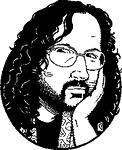 Silicon Alleys
Meeting San Jose's Original Neighbors
By Gary Singh
THIS HAS BEEN a year of many anniversaries, and one in particular stands out for a few locals. San Jose's Northside Neighborhood Association (NNA) celebrated its 40th anniversary this year. Founded in 1965, it is the city's oldest neighborhood association. Especially nowadays with almost every other 1-square-mile section in San Jose breaking up into its own "neighborhood," the NNA can call itself the granddaddy of them all. Covering the area bounded by Julian on the south, Hedding on the north, Sixth Street on the west and Coyote Creek on the east, the NNA is constantly engaged in some sort of community building effort. They are a community that binds together like Eastman adhesive and bends over backward to improve the neighborhood. They've built gardens, refurbished parks and eradicated blighted areas. They've encouraged family businesses, home improvement and committee-based work. Their website contains a wealth of stories from old-timers and wonderful historical information about the neighborhood, going back almost 100 years. Above all else, the neighborhood is a great locale in which to saunter around and look at all the old houses.
According to their bylaws, the NNA's mission includes many community-boosting endeavors—everything from flea markets to litter removal to other social functions. After listing their goals, their statement says those goals include "any other lawful purpose which generally benefits Northside or its membership."
Speaking of "lawful purposes," my fondest recollection of living in the Northside Neighborhood is back in 1990 when I shared a run-down house near Backesto Park with way too many roommates. A classic example of our maladjusted overgrown-teenage behavior was the VHS movie-switching pranks we used to perpetrate at a local Northside Neighborhood corner market. It was called One Stop's Market. That's right—with an "apostrophe s." The facade said in hand-painted letters: Cold Beers, Hot Movies, TV Guide Magazine—as if someone would suddenly pull over and stop in solely because the store sold TV Guides. Inside the place you'd find moldy bread, cans of chili with an inch layer of dust on them, and coolers chock-filled with bottles of malt liquor and cheap beer. There was no cold storage in the back of the place whatsoever, so by the time the beer made it to the regular cooler, it tasted like it had sat in the trunk of someone's car for months. One Stop's was your quintessential dive corner market, but it fell by the wayside years ago.
The store's video rental section contributed the most to its diveness. The movies were located off in the back of the store and the porno section had its own side entrance around the corner, through a rickety half-broken door. Back in those days of rental movies in VHS format, usually there would be a small silver sticker with massive adhesive draped over the edge of the tape, warning you to not to remove the sticker under penalty of law. This was to prevent you from simply renting the movie, removing the title labels off the tape and putting them onto a different tape when you returned it—in order to keep the real movie for yourself. None of the rental movies in this Northside Neighborhood market had those preventive silver stickers, so we engaged in movie switcheroos on a regular basis. We'd rent a flick, switch the labels with a spare VHS tape that contained either another movie, news footage or just scrap recordings—and then return the tape. So the next time someone else came in and tried to rent that movie, they'd take home the wrong flick. Since the proprietors knew us as regulars, we simply gave them 2 bucks for each rental and signed a receipt. No ID, no nothing.
I think we did this primarily just to envision the looks on people's faces when they popped the tape in and didn't get what they expected. For example, if someone else rented Pretty in Pink, they would get four hours of Perry Mason episodes I had recorded years earlier. Sometimes the best pranks are the ones where you don't actually get to see the result, and I guess this was one of those times.
That, along with consuming too much lousy beer from that market over the fall/spring semesters of 1990-1991, is my contribution to the local history of the Northside Neighborhood. Of course, there were endless midnight runs to the righteous liquor stores on 13th Street and a few forgotten nights at the Derby, one of the Northside Neighborhood's best dive bars. To heist the Derby's motto, the Northside Neighborhood is a wonderful down-home place "where friends meet."
Send a letter to the editor about this story.