November 16-22, 2005
home | metro silicon valley index | silicon valley restaurants | review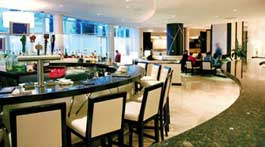 Photograph by Felipe Buitrago
Club Life
By Jim Harrington
Baybar
223 Twin Dolphin Dr. (inside the Sofitel Hotel), Redwood City; 650.598.9000
Hours: Open daily 11am-midnight (hours can fluctuate slightly)
Amenities: Plasma TVs, food menu, outdoor seating
HOTEL BARS on the peninsula can be about as interesting as the months-old magazines in the dentist's office. That, however, is certainly not the case with Baybar. The Sofitel Hotel in Redwood City recently underwent a major redesign, which basically affected all of the common meeting points, including the lobby and the restaurant. The hotel, which once possessed a classic European feel, now has a much more modern, urban and hip vibe.
At this groovy place, people kick it on plush retro-feel furniture, swig exotic cocktails and dig techno tunes pumped from the house stereo. Take drinks outside and sip and chat at one of the poolside patio tables. The best part is the view: The bar patio looks out directly over the Redwood Shores channel. You'll see some ducks on the water, maybe a golden retriever or two chasing a stick, but the coolest thing about taking in the view is thinking about what used to happen on this body of water. The channel, one hotel employee was happy to inform me, was once the lagoon where all the water-ski action took place at the old Marine World Africa USA.
Baybar has an excellent wine-by-the-glass selection and an admirable beer list, but the best doses of liquid courage come from the specialty drinks menu. Try the Blue Tropics (a blend of Hypnotiq, Blue Curaçao, Malibu Rum and pineapple served over ice) or the caffeine-rich Stamina (Rock Star energy drink, Svedka Vanilla, orange juice and a splash of cola). Soak up the booze by ordering from the bar menu, which features such tasty treats as the lobster quesadilla, scallops wrapped in prosciutto, the Angus beef blue cheeseburger and bruschetta.