November 16-22, 2005
home | metro silicon valley index | silicon valley restaurants | review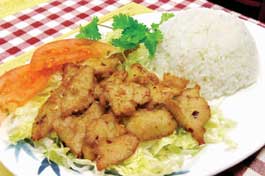 Photograph by Felipe Buitrago
Better Than the Real Thing: Happy Bamboo's vegetarian lemon-grass chicken will put you into a blissful state of meatlessness.
C'mon, Get Happy
Even if your mom didn't serve you tofu made to look like meat, you'll feel mothered at the Happy Bamboo
By Stett Holbrook
The Happy Bamboo, Vegetarian, San Jose, 408.694.0740
Owner Binh Matser treats her customers with loving attention. Got a bit of a cold? Matser will recommend a bowl of spicy pho to help clear your stuffy head. Didn't clean your plate? Matser will furrow her brow and ask you why. On one visit, a teenage customer whose beanie and skull-emblazoned sweatshirt made him a dead ringer for Jimbo of The Simpsons was waiting for a take-out order when Matser handed him a magazine to pass the time. Never mind if it was a copy of Yarn World, it was a sweet, momlike gesture.
The menu at the Happy Bamboo is almost all vegan and most of it Vietnamese or Asian-inspired. There is also a vegetarian tuna salad ($6.15), a veggie burger ($3.25) and, out of nowhere, Hungarian goulash and spaghetti (both $6.99).
"Some people aren't sure they want Vietnamese food so I try to make them feel at home," explains Matser, who sounds like she might serve you a batch of brownies and a glass of milk if she thought it would make you comfortable and you didn't mind egg-free brownies and soy milk.
Matser, who was born in Vietnam, worked in the finance department for HP and Agilent Technologies for 19 years until the day the corporate creeps sent her job to Asia. Suddenly jobless, she decided to use her severance pay to open a restaurant. Since she's a vegetarian, the restaurant would be as well. It opened about 18 months ago. Matser's second career as a restaurateur seems to be going well.
For starters, I loved the veggie drumsticks ($3.50). I don't know how they make tofu and a wooden dowel look so much like a chicken leg, but they do. The outside looks like browned, wrinkled chicken skin and inside the "meat" is white and stringy like the real thing. It's delicious, the soy-based glaze making it a little salty but good. There's some real artistry involved in the creation of this dish.
I liked the fried dumplings ($3.75). The wrappers were a bit gummy, but the soy, carrot and cabbage filling was quite good. Less good was the jicama roll ($3). It's hard to make this watery vegetable taste like much. Wrapping it up with carrots, cabbage, cilantro and other vegetables failed to lift the dish above the ho-hum.
The happy veggie burger ($5.95) is indeed a happy meal. A large veggie chicken patty arrives lightly battered and fried katsu-style and topped with sautéed, teriyaki-flavored mushrooms and onions. Served with a slice of tomato, lettuce and alfalfa sprouts on a Kaiser roll with a side of thick-cut fries, it's a satisfying sandwich.
The barbecue veggie pork bahn mi sandwich ($3.50) wasn't as good. The red-tinted fake meat and the carrot, cucumber and onion filling fell far short of the fatty richness of the real thing, but what really dragged the sandwich down was the bread. The French roll was bland and lacked the chewy, soft texture of a good baguette.
Au Lac vermicelli ($6) is a good approximation of the real thing, minus the pork or chicken. It's served in a bowl with chopped lettuce, bean sprouts, shredded cucumber, spring rolls and porkish, red-tinted tofu that's supposed to mimic barbecued pork. Doused with a little of the rice wine vinegar dressing it's pretty good, but avoid the spring rolls. They're wrapped too thickly and are more wrapper than filling. (Matser explained that she wraps the spring rolls with extra layers of rice paper to prevent them from burning.)
The Happy Bamboo's pho (small $5.75, large $6.75) was good, but it had me missing the meat. What's so appealing about pho to me is the deep and rich broth, a broth that's achieved with a slow-simmering beef stock. The Happy Bamboo's pho broth is fresh and light, but it lacked that nourishing deliciousness that comes from beef.
One of my favorite dishes is the lemon-grass chicken ($8.75). Served with white or brown rice, the thin chunks of "chicken" are lightly stir-fried with fragrant lemon grass and chile peppers. The soy-based chicken is browned on the outside and has a surprisingly poultrylike texture and flavor.
The tofu delight rice plate ($6.95) doesn't try to masquerade as meat. Two slices of pleasantly creamy tofu are draped in a thick sauce brightly flavored with garlic, ginger, green onions and what tastes like hoisin. You won't miss the meat on this dish. It stands up well on its own.
The caramel flan and the mocha chocolate cake ($2.50) are OK, but they sure would taste better with some egg yolks. Maybe it's not fair to compare vegan desserts to those larded with animal proteins, but I can't help it. Desserts with butter and eggs are just better.
For vegetarians and especially vegans, the Happy Bamboo will be a blessing. Instead of gingerly picking your way through a menu fraught with animal products, you can order with impunity from appetizers to desserts. For carnivores taking the day off from meat, the restaurant offers ample proof that you don't need meat to eat well. Just make sure you clean your plate.
---
The Happy Bamboo
Address: 1711 Branham Lane, San Jose.
Phone: 408.694.0740.
Hours: 11:30am-9pm Tue-Sun.
Price Range: $3.50-$8.75.