November 16-22, 2005
home | metro silicon valley index | movies | current reviews | film review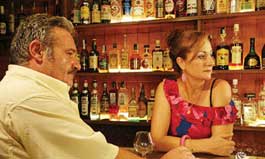 Belly Up To The Barcelona: Ángel de Andrés López (left) stars as a spurned bar owner in the feature 'Tapas.'
From Duck To Tapas
The International Latino Film Festival: eight movies in three days
By Richard von Busack
IMAGINE the breadth of a English Language Film Festival, and you get a sense of the choices a Latino Film Festival can make, with potential sources throughout the Western Hemisphere, as well as in Spain. This 9-year-old festival has its official local opening during a weekend stint at the Ciné[email protected] Row. The event opens with Fernando Eimbcke's Temporada de Patos (Duck Season) (Nov. 18 at 6:30pm), in which a pair of latchkey 14-year-olds in Mexico City find their perfect Sunday thwarted by power failures, a lost pizza delivery man and as obnoxious a picture of ducks on the wall as ever was lambasted in the Kinks' song. The screening is followed up by a gala Noche Mexicana, with a reception and silent auction at the Villa of Santana Row.
The other seven films include Eduardo Pinto's postmodern gangster drama, Palermo Hollywood, A Tale of Buenos Aires (Nov. 18 at 8:30pm) and Nazi Gold in Argentina: The Evil Treasure (Nov. 19 at 4pm), a documentary by Rolo Pereyra. One I wish I'd seen in advance was Donde Acaban los Caminos (Where All Roads End; showing Nov. 20 at 2pm), based on a 1952 work by the distinguished Guatemalan novelist Mario Monteforte Toledo. By contrast, one I saw entirely too much of was the ephemeral girl-in-New York comedy Love for Rent (Nov. 19 at 9:15pm), a must-avoid rom-com on the subject of surrogate motherhood.
Far better was Tapas. José Corbacho and Juan Cruz's five-sided story takes place in a nontouristy quarter of Barcelona and a tapas bar called Lolo's. The Lolo in question, a profane, fat old growler named Manolo (Ángel de Andrés López), has just chased away his wife. Meanwhile, another single lady, Raquel (Elvira Minquez), is caught in a novel romantic situation—on the one hand, she's been longtime computer pen pals with an Argentine lawyer; on the other, she's flinging it with an avid young kid (Rubén Ochandiano). The film is aptly titled: it's quite salty and occasionally crunchy, and a few people might find it more of a snack than a meal (Nov. 20 at 6:30pm).
There are a few cities that create instant movies, just by the addition of a camera. Havana is one, and Habana, Havana (Nov. 20 at 4pm) is a movie the city seems to make itself. During these, the last days of old King Fidel's reign, an aging fisherman hitchhikes and jitneys his way into the old city. Meanwhile, a middle-aged widow of a Cuban soldier who died taking la causa to Angola tends her plants and watches the afternoon. As the old fellow searches the city markets for a pair of shoes for his daughter, he fails to realize that fate is weaving a web for him—and then director Alberto Arvelo gives the Long Arm of Coincidence a rotator-cuff injury that will keep it out for the rest of the season. Habana, Havana is at its most lively when it is on the streets, watching the spectacle of the tide slamming over the sea wall at the Malecón and the big-hipped women with tough, sad faces.
The International Latino Film Festival plays Nov. 18-20 at Ciné[email protected] Row. See www.latinofilmfestival.org for details.
Send a letter to the editor about this story.