11.18.09
home | metro silicon valley index | columns | silicon alleys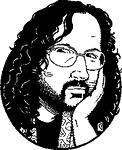 Silicon Alleys
Hail Italia
By Gary Singh
THIS WEEKEND, the campaign to designate a Little Italy neighborhood in San Jose will blossom even more when a gala fundraising dinner erupts on Saturday (Nov. 21) at 100 N. Almaden Ave. The Little Italy San Jose committee will host a grand-scale evening of authentic Italian cuisine and entertainment—a multipronged effort to raise $200,000 for an official Italian business and cultural district. The funds will go toward three new gateway arches to the old River Street neighborhood, plus murals depicting Italian-American history in Santa Clara County to be installed underneath the Guadalupe Freeway underpass.
The Little Italy committee consists of various Italian-American organizations, plus anyone else interested in Italian culture. River Street itself no longer exists, but the area in question roughly begins at the tiny stretch of Almaden Boulevard containing Henry's Hi-Life, then goes east along St. John Street underneath the Highway 87 overpass and then almost to San Pedro Square. What's now referred to as the Old River Street District, especially along St. John, was San Jose's first Italian-American settlement from the 1870s to 1900, so the location is perfect. As of right now, a slew of historic homes line Almaden Boulevard going north from Henry's. Some of them are renovated, while others are dilapidated. Behind the houses, one finds a quintessential Italian-style courtyard that connects through to Guadalupe River Park. The homes will eventually accommodate restaurants, bars or shops. Two leases have already been negotiated, with others in the works.
Joshua DeVincenzi Melander is the kingpin behind the effort. "In this desolate economy," he says, "this is actually something exciting that's going on in this part of downtown."
If you're unfamiliar with the area, you can go to the Little Italy website (www.littleitalysj.com) and view a neat video of Melander walking through the neighborhood while explaining everything. They plan to use the abandoned Value Business Products building for a new Italian Cultural Center. The site also contains information on how to join their "Sponsor a Brick" program. For $100–$500, friends, families or corporations can purchase one of the engraved cobblestone bricks that will be embedded in the sidewalks and crosswalks. Also, the fundraising dinner happens to be in the same building formerly used by the second-most-recent version of the San Jose Earthquakes soccer club. The blue awnings are still there, although somewhat dusty, and the building has been empty for four years now. Just next door to the Peralta Adobe, it will eventually be part of the San Jose Public Market.
Which brings us to another interesting aspect of this endeavor. The Little Italy neighborhood will extend almost to San Pedro Square, which is lock-solid Irish country, owned and commandeered by a former mayor of yore. In addition to the urban market, that mayor has another grand-scale plan for an Irish Technology Center.
All of this should add up to a killer time when the World Cup takes place next summer. There should be giant screens outdoors in both Little Italy and San Pedro Square broadcasting the games all the way from South Africa—just like you'll see in many town squares throughout Europe. No sporting event on Earth brings people together—especially Europeans—like the World Cup, so I see no reason why San Jose shouldn't stage a gigantic celebration. It would make the area a killer place to congregate, and it would bring thousands to the neighborhood.
Above all else, the Little Italy project is a grassroots effort that is honestly trying to do something to revitalize a decrepit, thrown-away splotch of downtown. And they are raising money to do it. They are not storming City Hall with illiterate banners and bullhorns demanding St. John Street be renamed Little Pompeii, or something similar.
Many items will be auctioned off during the gala dinner, including concert tickets, Italian art, a Lake Tahoe trip and even a vacation stay in Tuscany, courtesy of Spirit of Italy Tours. Italian-born tenor and SJSU music major Pasquale Esposito will also perform. If you go, please request "Arrivederci Roma."
Contact Gary Singh or send a letter to the editor about this story.