11.18.09
home | metro silicon valley index | the arts | stage | review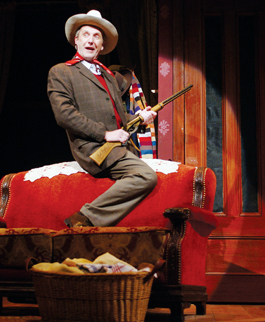 CARBINE FOOTPRINT: Dan Hiatt's grownup version of Raphie recalls 'A Christmas Story' for San Jose Rep.
Holiday Shepherd
Playwright Philip Grecian talks about adapting beloved 'A Christmas Story' for the stage
By Richard von Busack
BING CROSBY could have put it all in a Christmas song: the rifle that'll shoot your eye out, the Nehi lamp and the clinker-filled coalscuttle. Bob Clark's 1983 film of A Christmas Story, through 24-hour screenings on cable, has become essential to the holiday. The stage adaptation at San Jose Repertory Theatre, which starts previews this week, takes different angles on Jean Shepherd's comedic memoir, with Rep stalwart Dan Hiatt as the adult Ralphie.
Says director Chris Smith, "We literally change the tones and temperature. Some parts are way overblown, but there's an undertone of all the tensions parents have in bringing up a kid. These might be better expressed in the play than the movie, with living breathing human beings."
Smith adds, "The play is about the tensions that last a couple of days, broken through an elegant and gracious gesture. The whole world tips from order to disorder and back again. And it's imagined from a child's point of view, because children magnify everything."
Philip Grecian is the adaptor of this holiday favorite. Every winter, some 100 theatrical companies stage his play version, from little theaters to equity. From Kansas, Grecian says, "The adaptation problem was at first of taking a heavily narrated film and turning it into a play. Narration is a no-no onstage. This story is a memory play told by Ralphie as a grownup. We see him from the beginning. He enters—invisible to everyone onstage. Sometimes, he joins in on the action. He plays a Christmas-tree salesman, for instance. And when Ralphie is reading the Red Ryder ad, the older Ralphie puts on a cowboy hat and reads the advertisement as a grownup cowboy."
Shepherd was a radio storyteller before he became published as an essayist in the golden age of Playboy. Grecian used to read the Shepherd stories aloud from the magazine: "My children were excited when Playboy arrived in the mail because they knew there might be a Shepherd story in it. One Christmas, I was looking for a children's movie at a theater. I saw this movie I knew nothing about, except that it was rated for children. When the title card read 'A film by Jean Shepherd,' my daughter leaned in and whispered, 'Is it our Jean Shepherd?' It was a sleeper of a film; the theater wasn't very full."
Grecian continues, "Shep owned the copyright, Turner owned the film. Turner was the difficult part. But Shep was a dream. I sent the play to Shep, he approved of it. And then Shep died. He didn't get to read the final version and didn't get to see it onstage. That particular year, it seemed like we were kind of late in the game. It was September, and we thought we probably won't get any takers. Immediately, 20 some theaters canceled what they were doing [in order] to stage it."
Grecian recalls with pleasure seeing the play staged in San Jose. "They very were kind to me, and I loved that Christmas display in the park. Every winter, I get to see a few productions of the play; the companies who do it are almost families themselves.
Why is A Christmas Story a perennial? The playwright explains, "Because it's about your past Christmas as much as it is Shep's. It's interesting: the story seems to take place sometimes in the 1930s, sometimes in the 1950s. Some details are from the 1940s, though World War II is out of the picture. But in fact, Shep was actually Ralphie's age in the 1920s. A Christmas Story takes place in everyone's past. On the play I wrote that it takes place in 1938, because people staging a play have to know what the era is. I should have written "It takes place in your childhood."
"It's almost a tragedy," Grecian finishes. "Shep had a very jaundiced view of Christmas, and much of that comes through in the movie. The moral of the story is, you want this one thing and nobody will give it to you. I don't think Shep was ever very happy about Christmas, but he was such a great storyteller that he made people happy. Comedy and tragedy are essentially to sides of the same coin, and tragedy becomes comedy in time."
A CHRISTMAS STORY, a San Jose Rep production, previews Nov. 21–22, 24–25 and opens Nov. 27 at the Rep, 101 Paseo de San Antonio, San Jose. Tickets are $45-¢69. (408.367.7255)
Send a letter to the editor about this story.