11.18.09
home | metro silicon valley index | music & nightlife | band review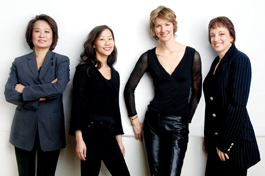 LIVELY ARTISTS: The Contrasts Quartet plays Wednesday at Stanford.
Classical Moves
By Michael S. Gant
FOR its November presentation, the San Jose Chamber Music Society welcomes the Amernet String Quartet all the way from Florida International University to town. Violinists Misha Vitenson and Marcia Littley de Arias, violist Michael Klotz and cellist Javiet Arias will perform Haydn's Sunrise Quartet, Mendelssohn's Quartet in E Minor and Tchaikovsky's Quartet no. 1 (Accordion). Sunday (Nov. 22) at 7pm; Le Petit Trianon, 72 N. Fifth St., San Jose; $25–$40; 408.286.5111.
The South Bay Guitar Society hosts renowned classical guitarist Adam del Monte, who is also noted for his skill in the flamenco style. In addition to performing, del Monte has also been composing flamenco-flavored pieces. Saturday (Nov. 21) at 8pm; Le Petit Trianon, 72 N. Fifth St., San Jose; $15–$25; 408.292.0704.
Coming up for breath after its extensive Prokofiev Project, Stanford Lively Arts offers a concert by the Contrasts Quartet. This clarinet, violin, cello and piano ensemble will concentrate on contemporary works with a folk-music flavor, include compositions by Kodály, Bartók, Ravel, Khachaturian and even Peter Schickele. Wednesday (Nov. 18) at 8pm; Dinkelspiel Auditorium, 471 Lagunita Dr., Stanford University; $10–$40; 650.725.ARTS.
Nadja Salerno-Sonnenberg takes up the baton for the New Century Chamber Orchestra in an evening saluting the compositions of William Bolcom. The orchestra will showcase Bolcom's Three Rags for String Quartet and Serenata Notturna for Oboe and Strings (with Laura Griffiths as soloists). The program will be rounded out with Richard Strauss' Metamorphosen scored for 23 solo strings. Friday (Nov. 20) at 8pm; First United Methodist Church of Palo Alto, 625 Hamilton Ave., Palo Alto; $32–$54; 415.357.1111.
In a similar vein, Silicon Valley Symphony pays tribute to the late Bay Area cellist Lawrence Granger with pieces by Saint-Saëns and Brahms. The featured soloist will be cellist Peter Wyrick. Friday (Nov. 20) at 7:30pm; Presbyterian Church of Los Gatos, 16575 Shannon Road, Los Gatos; also Saturday (Nov. 21) at 7:30pm; Holy Trinity Episcopal Church, 330 Ravenswood Ave., Menlo Park; $15/$20; 408.873.9000.
Other Classical Concerts
Peninsula Symphony
A holiday concert. Fri, Nov 20, 8pm and Sun, Nov 22, 1:30pm. $20. Stanford Memorial Church, 450 Serra Mall, Bldg 500, Stanford University, 650.941.5291.
Doris Williams and Friends
Performing Celtic and Renaissance music of ancient and modern times. Sun, Nov 22. Suggested donation of $10. Foothill Presbyterian Church, 5301 McKee Rd, San Jose, 408.258.8133 x105.
El Camino Youth Symphony
Sinfonietta Fall Classic with trumpeter Daniel Bereket and violinist Albert Chen. Works by Haydn, Burch, Goedicke and Bizet. Sat, Nov 21, 7:30pm. $6/$12, www.ecys.org. Spangenberg Theatre, Gunn High School, 780 Arastradero Rd, Palo Alto.
Masters of the Baroque
Festive Works by the Bay Choral Guild. Opening its 31st season with a delightful concert of Baroque Masterworks. Fri, Nov 20, 8-10pm. $25/$20/$6, www.baychoralguild.org. First United Methodist Church of Campbell, 1675 S. Winchester Blvd, Campbell.
San Francisco Symphony
Performing the Brandenburg Concertos by Bach. Fri, Nov 20, 8pm. $15-$71. Flint Center, 21250 Stevens Creek Blvd, Cupertino, 408.998.TIXS.
Symphony Orchestra Concert
Join the SJSU Symphony Orchestra and soloists from the SJSU Chamber Singers, under the baton of Dr. Janet Averett, for a holiday preview concert featuring the music of Bach, Beethoven and Brahms. Fri, Nov 20, 7:30pm. $15/$7 Students. SJSU School of Music and Dance Concert Hall, Near Seventh and San Carlos streets, San Jose.
Send a letter to the editor about this story.