11.18.09
home | metro silicon valley index | silicon valley restaurants | preview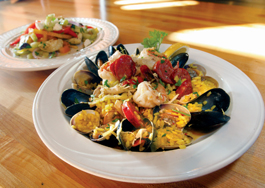 Photograph by Felipe Buitrago
ITALIAN STYLE: Paella and Mediterranean salad at Café Torre
Big-City Hideout
Cupertino's Café Torre serves Italian-American and Mediterranean food with flair and authority
By Stett Holbrook
IMAGINE, if you will, a pyramid. The pyramid represents Silicon Valley's dining scene. The broad base symbolizes all the great ethnic restaurants in Silicon Valley, the myriad of Indian, Vietnamese, Chinese, Korean, Japanese and Mexican places that make the valley's food scene so distinctive and diverse.
At the apex of the pyramid sit the few fine dining restaurants, outstanding destination restaurants like the Plumed Horse, Manresa, Marche, Kaygetsu and Le Papillon. In the middle, you would expect to find an array of midpriced restaurants, and indeed there are a great many places that fit that description, but there are precious few worth mentioning. As a rule, most are mediocre, predictable and boring.
As such, there is a great gap in the structure. What do you call a pyramid with a hole in the middle? I don't know, but whatever it is, that's what we've got in Silicon Valley.
Where are the dependable neighborhood cafes and bistros, friendly, welcoming places like Liberty Café and the Slow Club in San Francisco or the Bonny Doon Cellar Door Café in Santa Cruz or Dopo and Wood Tavern in Oakland, places that are affordable enough to go during the week and casual enough for jeans, but where the food is ambitious, expertly prepared and sometimes surprising? Where do you go for that in Silicon Valley? I'll have to get back to you.
In an effort to fill in this gaping hole, I went to Café Torre in Cupertino. While Cupertino has some good regional Chinese restaurants, the top-of-the line Alexander's Steakhouse and a few other standout restaurants, the city doesn't really have much going on foodwise.
Café Torre is something of an anomaly, an intimate Mediterranean restaurant tucked into a generic minimall. The "cafe" half of the restaurant's sign outside is burned out, which makes it hard to find it at night. And just because Cupertino is home to Apple, don't rely on your iPhone to guide you there. On one of my visits, my dining companion's phone seemed to be steering him to an empty lot somewhere.
But once inside the narrow restaurant, you discover an island of calm and urbane sophistication. The blond-wood floors, angular wine bar and cozy back room make it feel like a big-city hideout. Café Torre's strength is probably its service. You won't find any college students or neophyte waiters here. The restaurant is staffed by serious professionals who don't introduce themselves by name or scribble smiley faces on the bill, but who know their trade well and move about the place with an easy authority. That alone makes Café Torre special.
But it's the food that matters most, and Café Torre hits the mark. Except when it doesn't. The menu reads like a list of classic of Italian-American and Mediterranean food—pastas, roasted fish, grilled meats and a handful of starters and salads.
Over the course of three visits, my best experiences were at lunch. The restaurant is crowded at lunch with what look to be and sound like white-collar types from Apple and other corporations nearby. I still have fond memories of the roasted-lamb sandwich ($8). Served on light and crusty rosemary focaccia, the juicy lamb is sliced thin and paired with caramelized onions. Simple and delicious.
The same goes for the steamed clams with linguiça in a shallot-and-thyme-infused white-wine broth ($13). It's great mopped up with hunks of the crusty bread that comes with it.
The salads are quite good because of the sparing application of vinaigrette. The baby-arugula salad with tangy shaved fiore sardo cheese and prosciutto ($7) was my favorite, but the warm spinach salad with garlic and pancetta dressing, barely wilted and with a refreshing lemon quality to the dressing, was a standout, too.
The restaurant does clams well. In addition to the aforementioned steamed clams, the clean and robust flavors of the linguine with clams, tomatoes, garlic and oregano ($16) won me over with its hearty simplicity.
I expected the same from the spaghetti puttanesca ($12). The anchovy, garlic, capers, olive and tomato pasta was fine but didn't rise above what I could make from the contents of my refrigerator.
Dinner is mostly strong, too. Fried calamari appetizers are ubiquitous, but well rendered here ($9), with a greaseless breading and a rich remoulade sauce for dipping. Less appealing was the cold slab of house-made duck pâté ($13). It might have been better if it wasn't pulled right from the refrigerator, but then the less-than-creamy, coarse texture would hold it back, too.
I loved the lasagna ($15), a classic take on a classic. Rather than being buried in a layer of molten cheese, the top of the dish was lightly crisped in the oven with minimal cheese. The meat sauce carried a delicate and sweet undertone (carrots?), and the beautiful, deep-red tomato sauce was deeply reduced and offered sweet and savory flavors that had me spooning up the last bites.
The double-cut pork chop ($22) was as fat and juicy as they come and expertly caramelized. The brandy apricot sauce was a good foil for the savory-rich pork, but the Brussels sprouts on the side were undercooked.
Penne classico ($14), made with garlic sausage, tomatoes, herbs and parmesan, was fine, but like the spaghetti puttanesca, it's another dish you could easily make just as well yourself. A good, midtier restaurant doesn't have to offer inventive, trendy dishes, but if it's going to lead with the classics of Italian-American food, it should be better than what you can make on your own.
Café Torre has an accessible if fairly mainstream wine list that offers several local wines worth seeking out, such as the Hunter Hill Vineyard Cabernet Sauvignon and Bargetto Winery's chardonnay.
Desserts ranged from pretty good to trainwreck. The silken-chocolate torte ($6.75) delivered a satisfying hit of chocolate with a rich and nutty crust. The desultory rhubarb shortcake ($6.75), however, is my pick for the worst dessert of 2009. The rhubarb was cooked for so long that the pleasing wine-red color of the vegetable had been leached out into a pale pink and beige and had the structure of overcooked baby food. Rhubarb's pleasantly tart, strawberrylike flavor had been reduced to a sour, sticky sweet mass.
The pear tart ($7.50) was almost as bad. The crudely formed crust was pale and doughy and needed more time in the oven. The pears were mealy and less than sweet and lacked any caramelization that would have elevated them from simply oven-heated fruit.
When I informed our waiter about the desserts, he took one look at the shortcake and agreed it was no good, but he defended the tart and gamely picked up a fork and sampled it himself and pronounced it just fine. We disagreed, but I appreciated his willingness to engage me on the subject. While he graciously took the shortcake off the bill, he pushed back on the pear tart, informing me a couple sitting nearby really liked it. And? Was I expected to like it because other people did? I sent it back.
Café Torre takes a few steps toward plugging the hole in the midsection of Silicon Valley's restaurant scene, but the restaurant—and the region at large—has yet to realize its potential.
---
Café Torre
Address: 20343 Stevens Creek Blvd., Cupertino.
Phone: 408.257.2383.
Hours: Lunch 11:30am–2pm Mon–Fri and dinner 5–9:30pm Mon–Thu and 5–10:30pm Fri-Sat.
Cuisine: Mediterranean and Italian-American.
Price Range: $12–$26.
Web: Cafetorre.net.
Send a letter to the editor about this story.