11.18.09
home | metro silicon valley index | movies | current reviews | review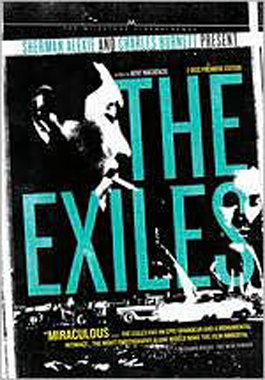 The Lost Ones
Milestone reissues seminal 1961 film 'The Exiles' about rootless Native Americans in urban limbo
By Richard von Busack
ORIGINALLY, the meaning of cool wasn't that you didn't care—it was that you cared too much to let it show. The kind of cool that The Exiles (now on DVD from Milestone) exudes isn't the slickness of the traditional urban movie—the eagerness to hurt someone in order to make your mark. This 72-minute-long 1961 semidocumentary concerns the dusk-till-dawn, nowhere night of a group of Southwestern American Indians, circa 1960. They leave their crowded downtown tenement to go out drinking, to mix it up. They wind up their evening spinning their wheels at the crest of a bald hill overlooking downtown L.A., dancing and singing the old warrior songs. There are two kind of women in the film: the ones left at home, like the sad, pregnant Yvonne (Yvonne Williams), who seems to be looking at life as if it were goods in a shop window. There's the other kind who go out looking for a little excitement but get pawed or harassed. The exiles of the title mean the Indians—exiled from their land and with no connection to the white-run city around them. The title also means us: anyone who has ever been trapped in a late-night city, caught by the neon's glare like a moth.
Kent's Mackenzie's film, shot on salvaged "short ends" over the course of a couple of years, takes place in the since demolished Bunker Hill district. It's where Disney Hall, MoCA and other cultural institutions stand today. Other precious footage includes the Angels Flight funicular when it was a functioning L.A. belle-époque relic as opposed to a tourist attraction. We see Grand Central Market on Broadway back when it was the jumping center of a lively neighborhood, and a bustling Main Street skid row crawling with barflies. It's the old Bukowski L.A., long since mowed flat and paved over. It's arguable that no one ever caught this area on camera better than Mackenzie. The Exiles is as good as it is because it had a director who understood what he was looking at. He realized this area was on the way out, just as he had forecast in a sentimental, straightforward documentary titled Bunker Hill '56 (included on this disc), a series of interviews with the immigrants, old people and poor people who lived in the divided-up wooden mansions of the turn of the century. (Bunker Hill '56 would make a terrific double bill with The Magnificent Ambersons.) Where Mackenzie really proves his distinction is in getting the trust of a nonprofessional cast, making himself invisible or unnoticed as they go through their long night.
Mackenzie, like Raymond Chandler, was an upper-middle-class British war vet who came to L.A.—maybe that's what made him different enough to be trusted by the subjects of this film. He used the GI Bill to attend USC film school; Bunker Hill '56 was his school project. The director worked on a handful of films before an early death in Marin County in 1980. The Exiles has been beautifully refurbished by the UCLA archives, includes its wonderfully sleazy rockabilly/surf soundtrack by the Revels, and a commentary track by Sherman Alexie. There are other releases this year that pose as events: The Exiles is the real thing.
THE EXILES; two discs; Milestone Film and Video; $29.99
Send a letter to the editor about this story.