11.18.09
home | metro silicon valley index | movies | current reviews | review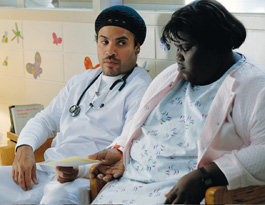 Photograph by Anne Marie Fox
HELPING HAND: Lenny Kravitz plays a sympathetic nurse to troubled 'Precious' (Gabourey Sidibe).
Pushing Too Hard
Lee Daniels' 'Precious' survives on its acting, but the story is marred by a judgmental scheme of right and wrong
By Richard von Busack
SHAKESPEARE may have been wrong when he wrote that the world is a tragedy to those who think and a comedy to those who feel. Peruse the public reaction to the much-laureated Precious: Based on the Novel Push by Sapphire, and it appears to be the other way around. Lee Daniels' tragedy, which won double awards at Sundance, seems to be elevated to the status of something special by its noteworthy acting.
The best of that acting is the fated-to-be-Oscared performance by Mo'Nique. Her performance is not a huge surprise, because she stole Daniels' crime drama Shadowboxer, a similar mix of the nutty and the nitty-gritty. As in any fated-to-be-Oscared role, Mo'Nique's tough, blocked performance yields to a spectacular meltdown. Mo'Nique's verbal aria is the part of the story that escapes melodrama, the part that seems most plausible, explaining how an unnatural mother becomes that way.
But when critics kvell so heartily, watch out. Owen Gleiberman, for instance, wrote that "Precious is a film that makes you think, There but for the grace of God go I." I hate to be a bastard about these things, but that's exactly what I felt like reading his review. It's surprising how undiscomfiting Precious really is, unless you've had some personal experience of the less-than-$20,000-a-year life.
It's 1987, during some of Harlem's most suffering years, with AIDS and the crack epidemic doing their deadly work. As a girl of immense girth, 16-year-old Claireece (Gabourey "Gabby" Sidibe), known as Precious, wishes herself out of her flesh, looking into the mirror and seeing a thin blonde looking out, or murmuring her desire for a boyfriend with "good hair." (Sometimes she has very fancy daydreams—placing herself into the public-TV station's film broadcast of De Sica's Two Women, a subtitled story of rape and occupation that doesn't seem like a semiliterate Harlem girl's choice of viewing, somehow.) The system works a little bit. Pressured out of public school, Precious makes her way to an each-one-teach-one alternative school, where she learns to write her own story in a journal.
She has intelligence, but she can't focus, and we learn why in flashback; she was serially raped by her mother's boyfriend. (We see this situation in bits and flashes.) As a result, Precious brought a child to term; it has Down Syndrome, so she calls it Mongo, short for Mongoloid. And her scathing, angry mother, Mary (Mo'Nique), blames her daughter for this baby, urging her to stop this foolishness about school and go on to welfare.
Watching Sidibe, we see something of what this movie could have been if it hadn't been so overcooked—the flickering of expressions on this bigger-than-life woman could have been leavened with some kind of cutting, secret humor or the kind of wrath that forgives nobody. But except for a scene of pilfering some fried chicken, Precious doesn't act out much; she gets ground down by her terrible mother, and then the trouble begins.
The film is based on the poet Sapphire's novel Push—the title coming from a doctor's instructions to a mother in childbirth. The movie pushes its cement-solid conception of greasy frying pans, droning TV sets and fungusy walls. And the politics won't inflame anyone: Precious is practically a pre-Clinton-era dream of the need for welfare reform.
Trying to lighten up matters, there's a scene at an urban hospital where the staff (particularly Lenny Kravitz as the nurse) behaves like the teddy bear's picnic; fellow students who previously disliked Precious are now on her side. And there's no indication that Kravitz's nurse John isn't so friendly simply because of Precious' tendency to project love where there isn't any, as in her earlier, hopeless crush on a white math teacher. Mariah Carey is the movie's other small surprise, doing some actually low-key acting, as a social worker significantly named "Ms. Weiss" (calling her Ms. White might have been too thick).
Sapphire has said that Precious is a composite, made from the girls she was teaching in the Bronx and Harlem. Maybe it's the compositing process that's the trouble. Is Precious' story possible? Of course it is—these situations could happen to any endangered child. Part of the reason the film has been knocking people's guts out on the film-festival circuit is because all these things happen to one girl. Show a person hit by lightning, and you're showing something that could happen; show that person hit by all the bolts in the world, and you've got a type of cartoon.
The little-film-that-could rep is due to a push by executive producers Tyler Perry and Oprah Winfrey. Oprah's comment in the Entertainment Weekly feature on the film, "I see her [girls like Precious, that is] waiting for the bus as I'm passing by my limo," sounds like parody but is the real thing.
You watch Precious go by from your personal limo—the comfort of a theater seat—and you know exactly where to feel revulsion and where to feel the updraft of uplift. When a supporting actress steals a show, it's the director's fault; it means the main character isn't as well-turned somehow. In her searing speech, Mo'Nique's Mary—ironically named after the ultimate sacred mother—asks not to be judged.
But Precious has a judgmental streak that won't quit. And that's been essential to a success worthy of its sensationalism. The judgment is the part that attracted Perry and Winfrey. By the end of the movie, you know who all the heroes and all the villains are, and you can go home comfortable.

PRECIOUS: BASED ON THE NOVEL PUSH BY SAPPHIRE (R; 110 min.), directed by Lee Daniels, written by Geoffrey Fletcher, photographed by Andrew Dunn and starring Gabourey Sidibe and Mo'Nique, opens Nov. 20.
Send a letter to the editor about this story.