11.18.09
home | metro silicon valley index | columns | style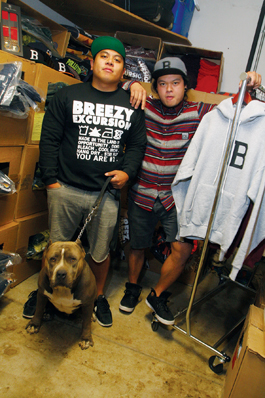 FRESH PRINCES: Breezy Excursion co-owners Ryan Mante (right) and Christian 'Flip' Lilleland with Umali, Lilleland's pet pit bull.
To a Tee
By Jessica Fromm
BREEZY EXCURSION, one of the biggest street-wear brands to come out of San Jose ever, started with a dream. "I literally had a real dream about selling T-shirts made out of solid gold," says Ryan Mante, the co-owner of the San Jose–based apparel brand. "I woke up and said, 'You know what? I want to make T-shirts.'"
Mante met his business partner, Christian 'Flip' Lilleland, while majoring in marketing at San Diego State University. Both in their mid-20s and hailing from the Bay Area, they moved back to NorCal in 2007 and launched the clothing with an $800 investment. Mante drew up their first company logos in Microsoft Paint, Lilleland bought a copy of Adobe Illustrator for Dummies and they stored boxes of T-shirts in their cars.
After dropping their first real line last year, the duo decided to crash the 2008 MAGIC's S.L.A.T.E. Trade Show, the largest progressive fashion trade show in North America. Trying to get the word out about their brand, the two carried their merchandise around in backpacks and handed out catalogs of their wares around the convention floor and at industry parties.
"We were total outsiders, total strangers. It's like we were not invited to the prom. Me and Christian were the guys out of San Jose that no one knew," says Mante. "So finally, we went to the bar, got a few shots in us and said, 'Lets do this!'"
One year and tons of hustling later, Breezy Excursion has become a major brand on the Bay Area urban wear scene. The key to their success is that they make screen-printed urban wear that hits on untapped elements of nostalgia but without being cheesy. Their clothing aims to be an in-joke for their 18-to-25-year-old male customer base, often using themes from early-'90s pop culture and TV. For example, their popular Bel Air Collection is inspired by the Fresh Prince of Bel Air. But, you won't find Will Smith's face on the front of their shirts.
"We really try to dissect the theme and make it very clean. Even something as little as the hat we made, we wanted to theme that off of the blazer in the show," says Lilleland. "So, our Carlton shirt, it's all bow ties because the joke was he had different bow ties for every day. And the Bel Air Academy shirt, we illustrated a shield similar to it. Then with the Grey Poupon shirt, it's a nostalgic memory from a commercial, but we twisted it. We have a big hand like Uncle Phil's hand and we had the butler's hand, which is Geoffrey, passing the Grey Poupon to him," says Mante.
Their clever, humorous designs have made the company boom in the middle of an otherwise tough economy. "We've been growing like crazy lately. The boxes [in our warehouse] are a little empty right now because we've been filling so many orders with the holidays coming. But, that's a great problem," says Mante.
Breezy Excursion now has 40-plus accounts in the United States, Japan and Europe. They are sold at street-wear boutiques all around the Bay Area, including Aristocrats on Jackson Street in San Jose and Workmens/Balance at the Eastridge Mall.
Mante and Lilleland say they knew they had really made it this past August when Breezy Excursion was invited to have its very own booth at S.L.A.T.E. in Las Vegas. "We started with humble beginnings, with just four T-shirts and a crew-neck sweater. And this season, we came out with almost 40 new designs," says Mante. "We were like 'Now, we're the guys invited to the prom.' We were the only brand out of San Jose to be in the S.L.A.T.E. trade show. It meant a lot, and it made us solidify all the hard work all the pain and tears and growing pains," says Mante.
BREEZY EXCURSION will release a limited edition City of San Jose Seal T-shirt at the Unification of the San Jose Nation Party for Charity on Saturday (Nov. 21) at Agenda Lounge at 399 S. First St., San Jose. Tickets are $10 at the door with proceeds going to the ASI Children's Art Program.
Send a letter to the editor about this story.