11.18.09
home | metro silicon valley index | columns | Wine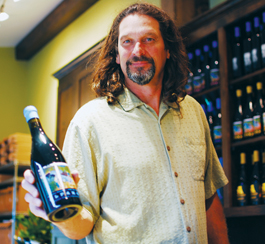 Photograph by Brian Harker

Passport, Please!
By Christina Waters
BY NOW, we all know that the Santa Cruz Mountains are home to dozens of small artisanal wineries. And many have heard that on certain weekends the wineries host big events called Passport days. But some folks still aren't quite sure what this Passport program is all about. So let's get started.
Four times a year (the third Saturdays of January, April, July and November), members of the Santa Cruz Mountains Winegrowers Association open their tasting rooms and wineries to the public. Here's why that matters: Many of these wineries aren't open to the public most of the year, and these open house days allow wine lovers to visit the wineries, meet eccentric winemakers, tour the cellars and sample and purchase rare, limited and new varietals created by our local vintners.
The Passport concept means that you purchase a miniature touring "passport" for $40 at any one of the participating wineries, and that gets you in to each and every winery on the tour. These events are out-and-out fun and tend to turn into parties, with winemakers offering finger foods and ambience-heightening live music.
Wine association operations manager Shannon Flynn has been doing these events for nine years now, and she's still loving it. "What makes Passport unique is that it allows guests the opportunity to visit wineries that aren't typically open to the public at other times," says Flynn, who believes that the Santa Cruz winery Passport is distinctive because "you are meeting the winemaker and really getting a hands-on experience." Passport day has grown through the years. "When I first started here," Flynn told me, "we had just over 20 wineries participating. Now we have just over 50."
Beauregard Vineyards, which recently took up residence in the former Bonny Doon tasting room site, is one of the day's few North Coast destinations. "We have Blackboard Catering throwing down some mean grinds," says Ryan Beauregard, adding that there's "a good chance we'll be doing draft horse tours of the vineyard." Fingers crossed!
"It's a nice way to get new people into the winery that have not been here before," says Richard Alfaro, who has lined up a local jewelry artist and pianist Oak Joe Haselton to entertain visitors at his Corralitos winery. Alfaro calls the event a kick-off for the holiday party season; people come in and stock up for holiday parties.
Jeff Emery, winemaker at the legendary Santa Cruz Mountain Vineyard, once again welcomes the Passport-holding public to the new Ingalls Street complex, where he and fellow Surf City vintners (including newcomer Hillcrest Terrace, Pelican Ranch, Sones Cellars and Vino Tabi) will be pouring new releases. "We'll almost certainly pour our brand-new 2007 grenache from 100-year-old McDowell Valley grapes," says Emery.
On the upper slopes of the Santa Cruz Mountains, Vine Hill winegrower Nick Guerrero anticipates his second year of welcoming the public to his gorgeous mountain setting. This time, as a special treat to those who make the trek, Guerrero and his team will be pouring an award-winning 2005 Cumbre Raffaelli library pinot noir. As if we needed any more encouragement.
SANTA CRUZ MOUNTAIN WINERY ASSOCIATION PASSPORT PROGRAM is Saturday (Nov. 21), 11am–5pm. Passes are $40, available at www.scmwa.com, all participating wineries or by calling 831.685.8463.
Send a letter to the editor about this story.