11.21.07
home | metro silicon valley index | columns | 5 things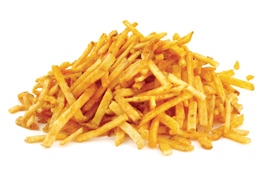 5 Things to Love
Fast-Food Chains That Don't Suck
By Stett Holbrook
I TYPICALLY avoid fast-food chains, but sometimes you've got no choice. Here are some good options.
Burger King The hamburgers are no good but the veggie burgers will do in a pinch.
In-N-Out Burger They really are different. Ask for "animal style" to get you burger loaded with extra toppings.
Jamba Juice Add some protein powder and a little wheat grass to your favorite smoothie and you've got a good, quick liquid meal.
El Pollo Loco So good it doesn't taste like fast food.
Rubio's The source for fast-food fish tacos par excellence.
Send a letter to the editor about this story.