11.21.07
home | metro silicon valley index | the arts | stage | review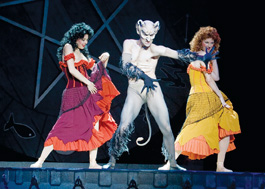 Photograph by Jon Gerbetz
DEMON DANCE: The devil gets down with the wenches in 'Carmina Burana.'
Devilishly Good
Fortune smiles on Ballet San Jose's production of 'Carmina Burana'
By Marianne Messina
FOLLOWING a light, canonical, sometimes capricious Dennis Nahat piece called Summerscape, the first glimpse of Ballet San Jose's Carmina Burana sent sounds of awe through the Saturday-night audience in a collective shiver of anticipation. Two tiered risers packed with monastic choirs enfold a flood of gray hooded monks on a stage dominated by the cobalt glow of a pentagram etched onto that imperious Wheel of Fortune. Easton Smith dances choreographer Dennis Nahat's character "The Magician," also the "Fate" referred to in the title of the familiar opening song "O Fortuna," and his blood-red robe draws the eye, evoking a Druidic darkness. To Carl Orff's stabs of music, Smith twirls; skin flashes from the slits in his robe, and the synchronicity between his taut, forceful arm movements and the monks' body movements signifies his control over them. The ensemble rises and falls—"waxing and waning" say the lyrics—and its simultaneous circular patterns around the Magician suggest the comingling of natural forces, windy vortex meets tidal wave.
As in Orff's exciting music, the sinister consorts with the sublime. Haunting cello, tiptoeing woodwinds, threatening tympani, sprightly bells, menacing choirs and dulcet soloists blend in a full, crisp aural complement that musical director Dwight Oltman never lets lumber or drag. Throughout, Nahat has laced beauty with sensuality, but the whole thing bursts into lasciviousness when Seth Parker (who inspired audience laughter) dances the tongue-lapping, hip-thrusting, wiry-tailed devil of the Bacchanalian tavern revels. Relishing his own lewdness, the devil dances with a rare single-mindedness. Mostly, the work's energy lives in the pangs that erupt when dualities and multiplicities merge.
The songs vary widely in texture. Their lyrics connect sensuality with both love and pain (if not death), and Nahat's choreography underscores these links. Ramon Moreno's breathtaking "Cignus lacus colueram" ("The Roast Swan") shudders sensuality in its death throes. A vision of bare sinew under strain, Moreno kicks up a tremulous leg, balanced on an impossibly arched back, and the detail of muscle and bone embosses his skin. In a series of dances for the character described as "Young Woman—Like a Rose," Karen Gabay magnifies Nahat's instinct for imbuing beauty with layers of significance. Cradling a bright red rose in her hand as if it were silk filigree, she tips her cheek to touch it. As the striking splash of red moves among the ensemble's pale costumes, it visually connects the girl to the fateful red-clad Magician as sure as a lifeline, or a bloodline.
Soprano Alison Collins sings a touching "In trutina" ("In the Balance"). Gabay in her sheer, red-tipped white veil floats on those incredible bourrées while signaling with graceful arms both resistance to and longing for the "Free Young Man" (Maykel Solas dressed in sun-god gold). The dance plays with the earthly paradox that union requires a loss of purity. Collins sings high notes to pop beer bottles as the entwined Gabay and Solas simulate physical union (modestly, yet convulsively). The rich layers of meaning added by Guthrie's suggestive detail—the petal delicacy of the many veiled costumes, the contrast of grimacing, trollish deadly sins—evidence an immense synergy between the late designer and Nahat, a collaborative alchemy that makes this Carmina Burana so much more than a sensory colossus.
Send a letter to the editor about this story.