11.21.07
home | metro silicon valley index | silicon valley restaurants | review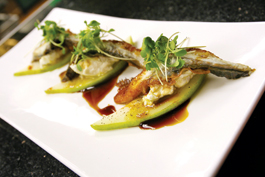 Photograph by Felipe Buitrago
THE EEL THING: Unagi pear at Castro Point.
Point Spread
Overly ambitious Castro Point needs to tighten its focus, play to its strengths
By Stett Holbrook
THE CORNER of Castro and California streets in Mountain View has seen several restaurants open and close since it was a Wienerschnitzel years ago. The latest restaurant to make a go of it is six-week-old Castro Point.
The restaurant is going through some significant growing pains, but there's enough good stuff here to believe it will develop into a worthwhile dining destination on this crowded restaurant row.
The menu is way too large. Not including the half dozen side dishes, I counted 38 items on the dinner menu. Cut that in half. Chef John Tran, who was formerly the chef de cuisine at A.P. Stump's in San Jose, has a lot of good ideas and dishes he wants to share, but I think it's best to focus on a handful of standouts rather than an exhaustive, two-page display of his repertoire.
The restaurant's décor is pleasant enough, but looks staged and lacks a lived-in look. If the weather continues to hold, the ample outdoor patio is a good option. There's live music at night and a babbling fountain.
The wine selection is one of the highlights here. Sommelier Christine Tran (no relation to Chef Tran) has assembled a wide-ranging list of intriguing and lesser-known wines. The prices are closer to what you'd pay in a wine shop, and in fact the restaurant has a retail license, so if you tried something you liked, buy another bottle and take it home.
To showcase the wines and Tran's cooking, the restaurant hosts a "bring your own bottle night" every Tuesday and Wednesday. The event features a special pre fixe menu in addition to the regular menu. The special menu focuses on a particular theme. Last week it was Tuscan food. The corkage fee is waived if you bring your own wine and there's a communal table where willing diners can share wine with each other. Christine Tran also pairs wines to go with the menu if one wants to go that route.
While I enjoyed her selections, the four-course meal ($48.95, plus $12 with wine pairings) fell short. It began with bresaola-wrapped persimmon and smoked pecorino cheese. The fruit and salami pairing was a creative play on melon and proscuitto, but the speck of persimmon hidden within the salami was oddly stingy and didn't amount to much of a first course.
The second course was a mini-pizza, but it looked and tasted like something you might make in a toaster oven when struck by the late-night munchies. For me, a pizza lives and dies by the quality of its crust and this "pizza" dies an ignoble death. With a texture and thickness somewhere between a corn tortilla and pita bread, the only thing it had in common with pizza crust was its circular shape. Given the flimsy nature of the "crust," heaping caramelized onions, mushroom, roasted bell peppers and tellegio cheese on top didn't help. The end result was a sodden, goopy, insipid mess.
The entrée featured a "Tuscan-style" rib eye and it was pretty good although it bordered on rare instead of the medium rare I requested. I liked the hearty puree of anchovies, tomato and onion spread on top but the overcooked rigatoni and tomatoes served on the side seemed like an afterthought.
The meal ended with an overly sweet zabaglione.
While friendly and well meaning, service is quite bad for a fine dining restaurant. During dinner, our waiter acted as if he was reading the menu for the first time. Question after question was met with "I don't know." By the end of the meal I was helping the waiter to pronounce ingredients on the menu and explaining what certain ingredients were. Dirty plates lingered too long. And to top it off, he had a runny nose that had him snorting and sniffling every time he came to the table. Note to waiter: Next time you've got a runny nose, either pop a bunch of antihistamines or stay home.
I had better luck with the regular menu. Beet and goat cheese salad ($7) is a ubiquitous dish, but here it tastes fresh and new again with roasted pistachios and a light herb vinaigrette. I also like the unagi with pear ($9), sweet-salty glazed eel atop a slice of crisp pear and creamy goat cheese. From the list of entrees, the wonderfully tender rosemary and smoked sea-salt-rubbed lamb sirloin ($21) was a winner, too.
There are several good finds on the lunch menu. Grilled prawn spring rolls ($7) with peanut-hoisin dipping sauce is a good opener as is the seafood mousse salad ($10), erroneously spelled "muse" on the menu. Delicate slices of scallop, salmon and crab mousse are great with the tangle of arugula, frisee and crispy pancetta. And for eight bucks, the pork belly and caramelized onions sandwich is a good deal. Too bad the steak roll it's served on was weak. A crusty ciabatta roll would hold up a lot better.
Castro Point has its share of rough edges, but the restaurant has enough going for it that time and a greater attention to detail should smooth things out.
---
Castro Point
Address: 383 Castro St., Mountain View
Phone: 650.964.4515
Tue–Fri 11am–3pm, Sat–Sun 5–9:30pm and brunch Sat–Sun 10am–3pm.
Cuisine: Californian
Price Range: Most entrees $10–$34
Send a letter to the editor about this story.