11.21.07
home | metro silicon valley index | movies | current reviews | film review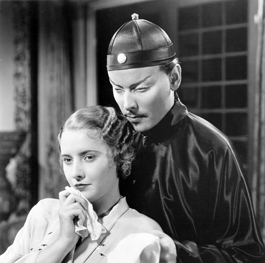 FOREIGN AFFAIR: Barbara Stanwyck and Nils Asther meet in China in Frank Capra's 'The Bitter Tea of General Yen.'
Tea Time
'Bitter Tea of General Yen' with Barbara Stanwyck shows the steamy side of Frank Capra
By Richard von Busack
AT JUST 78 minutes long, the 1933 melodrama The Bitter Tea of General Yen is a breakthrough film. Not just a breakthrough for its director Frank Capra, who rightly understood it as one of his best films. Nor was it just a breakthrough for the studio, which was then one more low-budget dweller on Gower Street's Poverty Row. It had its hopes: Columbia supposedly spent the vast sum of $1 million on The Bitter Tea of General Yen, and it was the first movie ever to play New York City's Radio City Music Hall. But the real breakthrough in this compelling, dreamy romance are the racial taboos it shatters. During the Chinese Civil War, Megan, a new arrival in Shanghai, hits the ground running. She and her husband plan to rescue some orphans. They're separated. Megan wakes up as the honored guest of a warlord. General Yen wears a modified British Army uniform, with Sam Browne belt and boots. In his leisure time, he reverts to silk robes. This effortlessly polite warrior is always trying to outwit the spies and traitors in his midst. Having kidnapped Megan for her own protection, he can't return her until the roads open. Megan takes to the general with just the right amount of hesitation. His firing squads disturb her sleep, so he genially moves the procedures away from her window. A good idea, that, because Megan succumbs to Yen in her slumber. In a famous dream sequence, she overcomes her prejudices; a fanged, clawed Chinaman vanishes and becomes the debonair officer and gentleman. There are limits to the seriousness. Playing Yen is the Swedish actor Nils Asther. The movie belongs to an age when directors shaved a Scandinavian's eyebrows and called him an Asian. But one would have to be desperately politically correct not to succumb to Asther's humorous yet Byronic acting. "He was a marshmallow," claimed his leading lady, who enjoyed a marshmallow now and then.
That lady was Barbara Stanwyck, who completely leaches the schmaltz out of this film. The actress, who never had a grain of Victorian prudery onscreen, modernizes the material by gives herself to it completely. "I accepted it, believed in it, and loved it" she told director Frank Capra's biographer Joseph McBride. McBride mentions the one director you might have expected to make such a film: Josef von Sternberg. There's something of von Sternberg's smoky languor in a scene where Megan watches peasants stealing into a grove of blossoming cherry trees to make love. But Capra's no-nonsense plot grounds this movie admirably. Tightly crafted, almost brutal action sequences obscure the back-lot production values. And there is a voice of common sense amid the rapture. Yen's moneyman (portly cynic Walter Connolly) growls his way through the film, briskly dispensing with the white-man outrage: "It's no skin off my nose." In fact, the film took the skin off a few white noses. It's possible that public unease to a Western/Eastern love story sank it at the box office. Connolly has the last word, a remarkable half-drunk monologue about the Buddhist wheel of life. The movie is all about the exotic becoming domestic. The frightening idea of the Other—forbidding, inscrutable—dissolves in one of Capra's rippling pools of images.

THE BITTER TEA OF GENERAL YEN plays with LOST HORIZON Nov. 24–27 at the Stanford Theatre in Palo Alto.
Send a letter to the editor about this story.